Get restaurant style sweet potato fries at home without a deep fryer! Use the air fryer to achieve the bestest, crispiest sweet potato fries with little help from the home cook's secret weapon, Trader Joe's.
If you're like me, there's no way you're making sweet potato fries from scratch at home.
Why?
#1 You're not deep frying at home.
#2 You can't just stick a sweet potato in hot oil and expect it to get crisp.
Trader Joe's sweet potato fries are one of the best alternative to making them at home. They require zero prep time and make a healthy snack alternative with no added sugar.
They would make a quick and delicious side dish next to a sandwich, baked fish, or chili bowl.
Or just by themselves with some ketchup, they're one of my favorite things to eat, and maybe they'll be yours too.
Jump to:
Why are sweet potato fries hard to make at home?
There's too much sugar in sweet potatoes. That's what makes them sweet.
That's also why they don't fry the same as regular potatoes (such as russet, yukon gold, butterballs, etc.)
As mentioned, naked sweet potatoes without any coating will not get crisp by themselves like regular potatoes.
You need to add a thin batter of cornstarch or wheat flour to coat the sweet potato.
Its that thin coating that gets crispy, while the inside of the potato has that soft, creamy sweet potato goodness.
Full Ingredient List
The Trader Joe's brand of sweet potato achieves this crispy coating using a batter of wheat flour, wheat starch, and baking soda. The fries are then fried in soybean oil.
The ingredient list is as follows.
My best guess for how Trader Joe's makes the fries, is that they chop the sweet potatoes into fries, parboil them with baking soda to help bring starch to the surface of the potato to aid in crispiness, coat them in a wheat flour and wheat starch batter, deep fry them in soybean oil, cool and flash freeze them before packaging into bags.
Since they are already technically cooked, you just need to heat them up properly.
Why do we love the air fryer? Because it makes food crispy, as if it were actually deep fried, but with minimal oil.
Why You'll Love this Recipe
Unfortunately, the package directions DO NOT provide air fryer instructions for heating the sweet potato fries, only oven and deep frying methods are given.
You can't even use the package instructions provided for the oven, because they say to bake at 450 degrees F when the air fryer maximum temperature is 400 degrees F.
After testing many bags of sweet potato fries, this recipe gives the air fryer instructions for the crispiest results.
Test #1 – Cooking in the Oven
I did a test of these fries in the countertop oven and cooked them according to the package directions.
I spread them on a baking sheet that I lined with a silicon sheet, and popped them into a 425 F degree preheated oven for 20 minutes.
The result?
No bueno.
Tiny droplets of grease collected on the baking sheet, and fries just did not get crisp no matter how hard they tried.
It might have been helpful to bake them on a baking sheet outfitted with a wire rack so at least there was some air flower around the entire perimeter of each fry.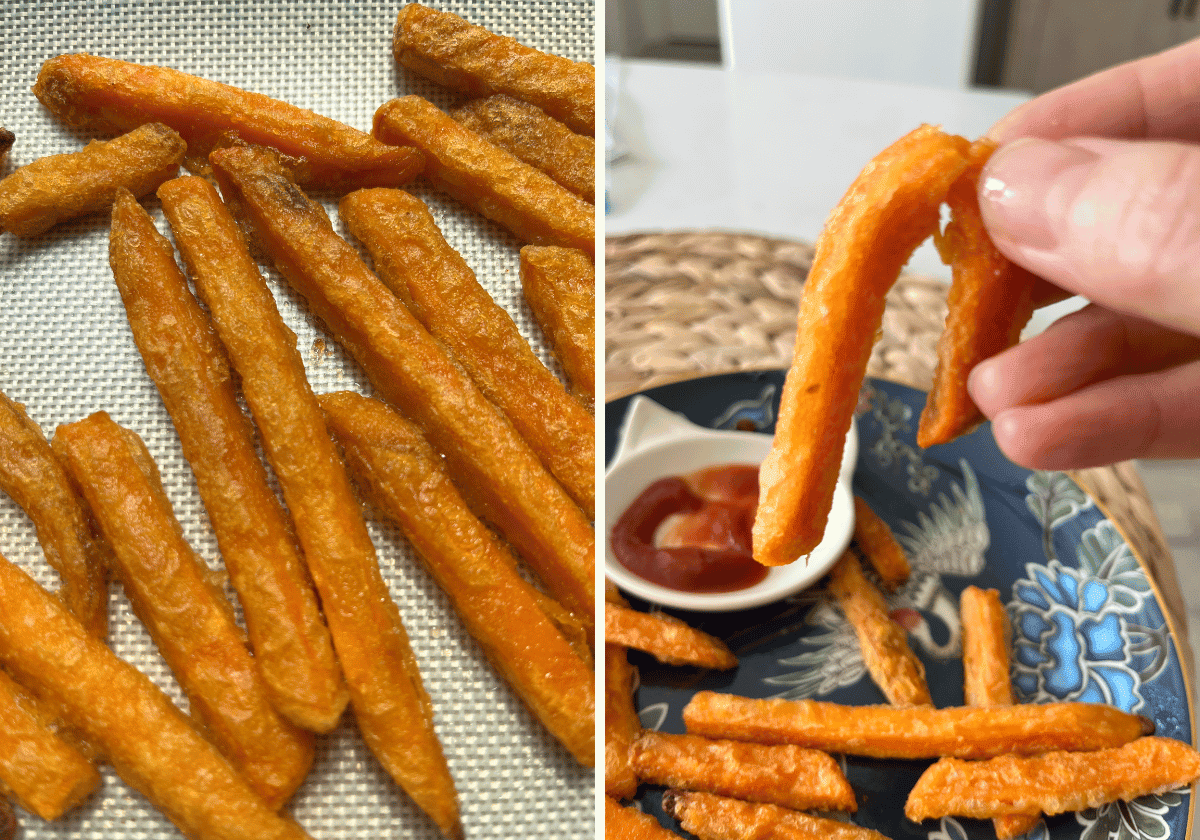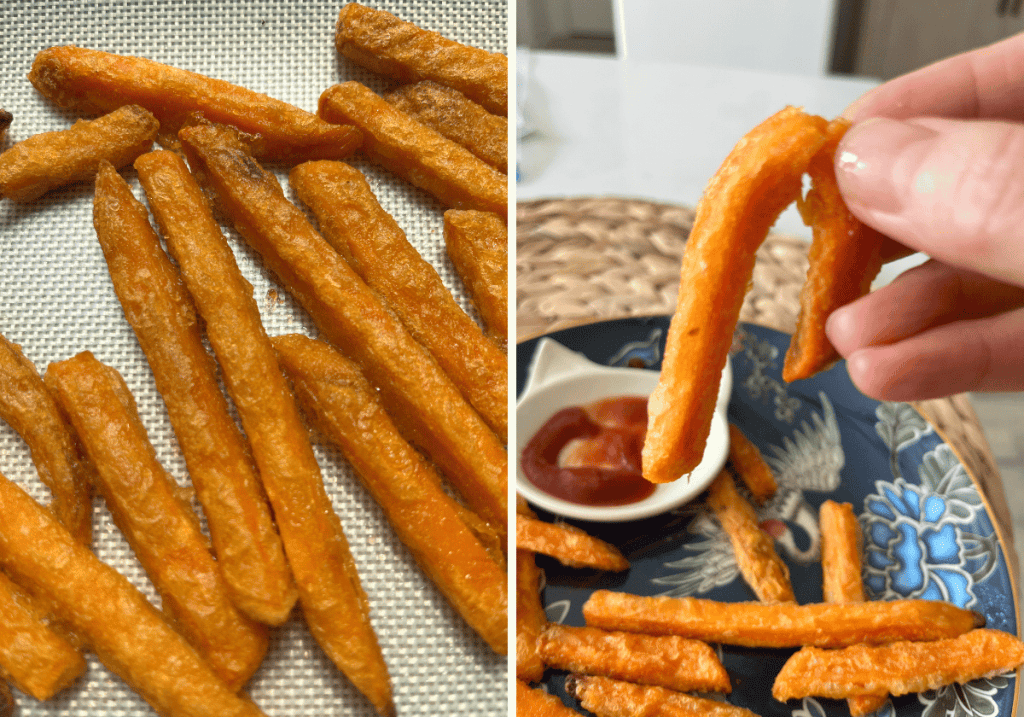 When you pick up an sweet potato fry, it should stand tall and proud, not fall over like a wilted flower.
Test #2 – Using a Liner in the Air Fryer
Even though, I just said the fries need maximum air flow around as much surface area as possible, I still wanted to try using a paper liner in the air fryer.
Why? Because it's new, and my last one went to heaven because the nonstick insert got ruined. (You can read about that hot mess here: tips for buying an air fryer.)
Baked at 400 degrees F in the air fryer for 10 minutes, the result is burned edges and fries are still soggy in the middle.
Looks like I need to drop the temperature and lose the parchment paper so my fries get some more hot air flow!
Test #3 – Half bag vs. Whole bag
I have a 6 qt Instant Pot Vortex air fryer, and I'm sorry to say that trying to cook a whole bag of Trader Joe's Sweet Potato fries in one go does not work well.
With a whole bag, it's not possible to spread them out on the air fryer basket without touching each other. They were all touching each other, and that touchiness led to sogginess.
To compensate, I had to cook the fries even longer to try to get them crispier, but it just led to more burnt edges.
A little bit of burnt edge is ok, but too much really does make them taste burnt.
Best to do a half bag at a time.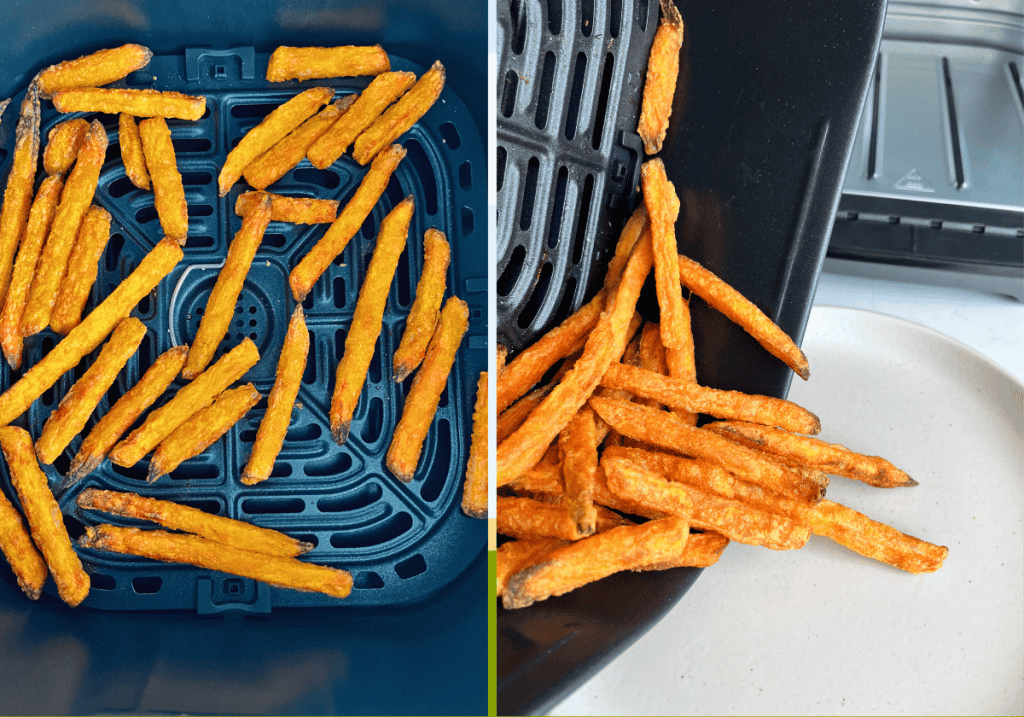 What is the best temperature?
After testing at multiple temperature, 375 degrees F seemed to be the sweet spot for half a bag of fries, with preheating, and no parchment liner.
350 degrees F wasn't hot enough, and 400 degrees F proved too hot.
375 degrees F for 12 minutes with preheating provided stick straight fries with golden brown edges.
Variations
Even though they don't need extra seasoning, you can put your own spin on these fries for some variety.
Onion Powder/Garlic Powder – Sprinkle on a dash of these powders prior to air frying for some extra savoriness.
Spicy – After cooking Add a dash of Mexican Tajin chili powder for some spicy and lime flavor
Black Pepper – These fries already come seasoned with salt but not pepper, if you love black pepper like I do.
Dipping Sauces – The real fun comes in serving with your favorite dipping sauce. Some of my favorites are ketchup, sweet chili sauce, aioli, ranch dressing, and barbecue sauce.
Equipment
This recipe was tested primarily with the Instant Pot Vortex Air Fryer. I also did one test with the Philips Air Fryer.
Both air fryers used the same temperature and time to achieve the same results.
Storage
These fries are meant to eaten while they're hot!
If you do have leftovers, though, I would put them in a container with a lid and refrigerate them to consume with in a few days.
Should you refreeze them?
Sometimes when you put things in the freezer, it becomes a time capsule to open some day that may or may never come.
In general, it's not best practice to defrost frozen food and refreeze it for food safety reasons.
See more guidelines at USDA.gov.
Top tips
Spread the sweet potato fries in an even layer in the air fryer basket. Try to make sure they're not touching each other as much as possible, so the hot air can hit as much surface area as possible.
Make sure the sweet potato fries come directly from the freezer. Don't let the bag sit out or let the fries thaw. You want very hot air hitting very cold fries to get maximum crispines.
Do not use a parchment or silicon liner. I know you want to keep your air fryer clean, but the fries really need the hot air to circulate underneath the fries as well as on top. The paper or other liner inhibits the air flow of the air fryer basket.
FAQ
Do you need to add oil?
No. These sweet potato fries were already fried in oil, and there is plenty of oil on them already. You don't need to spray with cooking spray. It won't make them any crispier.
Do you need to preheat the air fryer?
If you can, yes. The general method of cooking for maximum crispiness is to hit very cold fries with hot air. You can remember to preheat, this is a good practice for cooking these sweet potato fries. If you forget, it's not the end of the world. The difference, to be honest, will be minimal.
Do you need to flip the fries halfway through cooking?
No. As long as you don't use a parchment paper liner, foil, or other silicone liner, the underside of the sweet potato fries should get crisp with the hot circulating air from the air fryer basket. Taking the time to flip the fries, cools down the air fryer and causes more fuss than needed.
Trader Joes' Sweet Potato Fries – Air Fryer
Ingredients
1/2

bag

Trader Joe's Sweet Potato Fries

See Note 1
Instructions
Preheat air fryer to 375 degrees F.

Spread fries in an even layer in the air fryer basket. Try to get them as spaced out as possible without touching (even though some touching is inevitable).

Air fry for 12-15 minutes. Start with 12 minutes and check the fries. If they are not to the desired crispiness, put them back in for another 2-3 minutes. (See Note 2.)

Pour the fries onto a serving plate, and serve hot!
Notes
Make sure the fries are taken directly from the freezer.  You want them as cold as possible when they go into the hot air fryer for maximum crispiness. 
The cooking time of 12 minutes was tested on the 2 qt Philips air fryer and 6 qt Instant Pot Vortex air fryer.  If you have a different brand of air fryer, it may require more time.  You'll just need to check them after 12 minutes and tack on another 2-3 minutes until they are crispy enough for you. 
Avoid using a parchment paper liner, foil or any other liner that could inhibit air circulation and keep the bottom from getting crispy.
You do not need to flip the fries halfway through cooking (even if the air fryer beeps and tells you too, like the Instant Pot Vortex air fryer does). 
The longer you cook these fries, the crispier they do get.  However, the edges do start to burn, get dark brown, and taste burnt. 
Don't be embarrassed!
Finally, don't feel embarrassed about cooking frozen food or serving them to people. I cooked in restaurants for 10 years, and you would think I could make these on my own. But I don't because these are just as good. 🙂
Related Posts
Looking for other recipes like this? Try these:
Fortune Cookie 🥠
Never let the fear of striking out keep you from playing the game

Babe Ruth
Lucky Cat 🍀 🐈