Canola or coconut?  Olive or avocado oil?  Cooking oils are not created equal, but what is the best oil to put in your fry pan?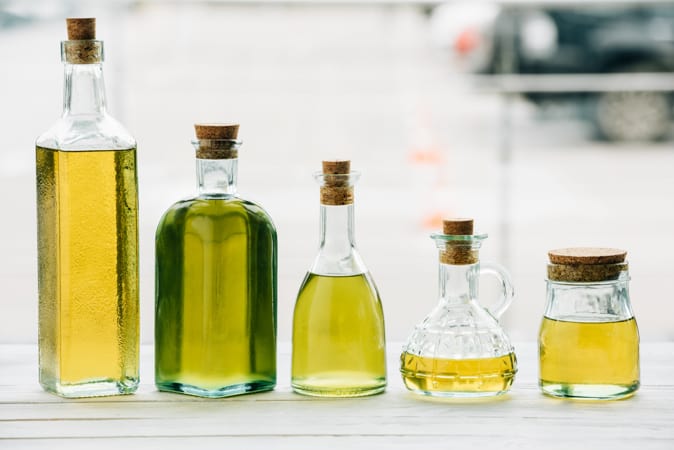 What is high heat cooking oil?
By cooking oils, I mean those with a high smoke point so you can saute, stir fry, and deep fry without the oil breaking down to release toxic fumes and free radicals that can damage healthy cells in your body.
Best Cooking Oils with High Smoke Points
#1 Avocado Oil
Smoke Point: 500°F
Avocado Oil has the highest smoke point of them all. 
With it comes a hefty price tag, along with a nutty flavor it will impart to your fried food.   
Unlike many vegetable oils, you can find naturally pressed versions instead of refined through a heavy industrial process riddled with chemicals such as the Chosen Brand pictured.
You can also find refined avocado oil, which will have a higher smoke point up to 520°F
#2 Grassfed Ghee
Smoke Point: 485°F
Grassfed Ghee
is grassfed butter with the milk solids removed so you can cook with it without burning quickly, as with regular butter.
Unlike clarified butter that also removes milk solids, ghee is simmered over a longer period such that moisture evaporates, the butter caramelizes, and results in a nuttier flavor.
Grassfed butter is one of the healthiest fats on the planet.
Grassfed ghee imparts those same health benefits but with a higher smoke point, so you can cook with it.
Similarly, grassfed beef tallow is also a natural source of saturated fat and works wells for deep frying.
Some people are scared of butter because of the large amount of saturated fat.
As Dr. Mark Hyman explains in Food: What the Heck Should I Eat?, saturated fat is not unhealthy, and grassfed butter is one of the most healthy, natural, unprocessed fats you can eat.
#3 Virgin Olive Oil
Smoke Point: 420°F
Virgin Olive Oil is ideal for cooking, but it can be hard to source.
Extra virgin olive oil seems to dominate the olive oil shelf in supermarkets.  The only problem is that the smoke point can vary vastly from 320 – 405°F .
Some articles say that you can cook with extra virgin olive oil, but it's best to read the label for the smoking point of that particular oil.
According to the International Olive Council, virgin olive oil is has more slightly more acidity than extra virgin olive oil but is not made through a refined process.
Pure olive oil is a blend of refined olive oil and virgin olive oil and should be avoided if possible.
Extra Virgin Olive Oil for Cooking? (can or can't you?)
4. Coconut Oil
Smoke Point: 350°F 
Unrefined
Coconut Oil is also naturally pressed like avocado oil.  It too has many evidence based health benefits. 
The unrefined version of the oil though does have a lower smoke point at 350°F.  This would be better suited to baking or light sauteeing rather than deep frying.
Smoking points are referenced from Jonbarron.org.
The form you have selected does not exist.
Look for Unrefined, Expeller pressed Oils
With the any vegetable oil, it is important to buy unrefined, expeller pressed versions.  The refinement process involves bleaching, filtering, and high temperature heat.
This refinement eliminates eliminate the minerals, enzymes, and other compounds naturally in the oil to extend the shelf life and raise the smoking point.
Is Canola Oil Healthy?
This is where is gets confusing.  Some say vegetable oils are healthy, and others do not.
Yes, per the American Heart Association:
Canola oil, in addition to other vegetable oils are recommended by the American Heart Association as healthful oils, due to their large proportion of polyunsaturated fats (PUFAs).
According to a study in the Experimental & Clinical Cardiology Journal, "there is substantial evidence that PUFAs induce significant beneficial cardiovascular effects."
No, per other experts:
However, this advice is in direct opposition to some medical experts, such as Dr. Mark Hyman, who extol the virtue of natural saturated fats such as grassfed butter and coconut oil.
In addition, Dr. Hyman states that the large proportion of polyunsaturated fats, specifically Omega 6 fats in vegetable oils, "increases the likelihood of inflammatory diseases and links to mental illness, suicide, and homicide."
When used for cooking, studies have also shown that polyunsaturated fats degrade when heated and decrease in nutritional value.
Dr. Weil and Dr. Axe have similar thoughts on rice bran oil further below.
Take whichever advice you would like but note that vegetable oils, overall, are often very refined.
Common Refined Vegetable Oils Include:
The lighter and clearer the oil is, the more refined it is too.  The more refined, the higher the smoke point, and the better it is for cooking.
You can find cold pressed or expeller pressed versions of the many of the above vegetable oils, but the smoke point will be lower. 
Be sure to read the label since it will often give you the smoke point for that specific oil.  The smoke point will vary depending on how much the manufacturer refined the oil.
Avoid GMO Oils
In addition to often being refined, vegetable oils, such as canola, soybean, and safflower oil, are  often made with GMO seeds.  
Others, such as rice bran oil and peanut oil are not.
Rice Bran Has a High Smoke Point
Rice bran oil has one of the highest smoke points at 495°F that makes it ideal for deep frying.
However, even Dr. Axe recommends using this in moderation due to the high presence of Omega 6 fatty acids. 
Simlarly, Dr. Andrew Weil notes that olive oil has more monounsaturated fat.  While the smoke point of rice bran oil is high, deep fried food should be eaten at a minimum anyway.
Isn't Peanut Oil good for deep frying?
Peanut oil also has a high smoke point of 420°F but that is the refined version.  The smoke point of unrefined peanut oil is just 320°F.
Cooking Oil vs. Finishing Oil
Cooking oils are different from finishing oils.  Finishing oils have a low smoke point and are used for eating raw on salad or drizzling on top of of finished pasta.
Finishing oils include:
Finishing oils are very fragrant and you want to capture those aromatics rather than kill them off with any heat.
Because finishing oils are not refined, they turn rancid more quickly.
In order to keep your pantry items to a minimum, keep one cooking oil and one finishing oil on hand to use for everything.
Keep it simple and healthy.
Helpful Tips:
Look for unrefined, expeller pressed coconut oil, and virgin olive oil.  Otherwise, try grassfed ghee if you're ok with animal products.
Read the label which may have the smoking point listed.  The smoking point will vary depending on how the oil is manufactured.
Although vegetable oils often have high smoking points, they are often highly refined through a chemical manufacturing process.
Canola, soybean, and safflower oils often come from genetically modified seeds.  Look for expeller pressed and non-GMO labels if you do choose to use them.
For deep frying foods, avocado oil would be best.  Otherwise, rice bran oil also has a high smoke point but should be used in moderation due to the high presence of polyunsaturated fats that degrade with the application of heat.
Related Posts
Extra Virgin Olive Oil for Cooking? (can or can't you?)
Beef Ramen Noodle Stir Fry in 15 minutes
Hamachi Crudo (the sashimi alternative)
The form you have selected does not exist.