Canned tuna gets schooled with a Korean chili paste that takes what could be an ordinary fried rice to a tsunami of umami.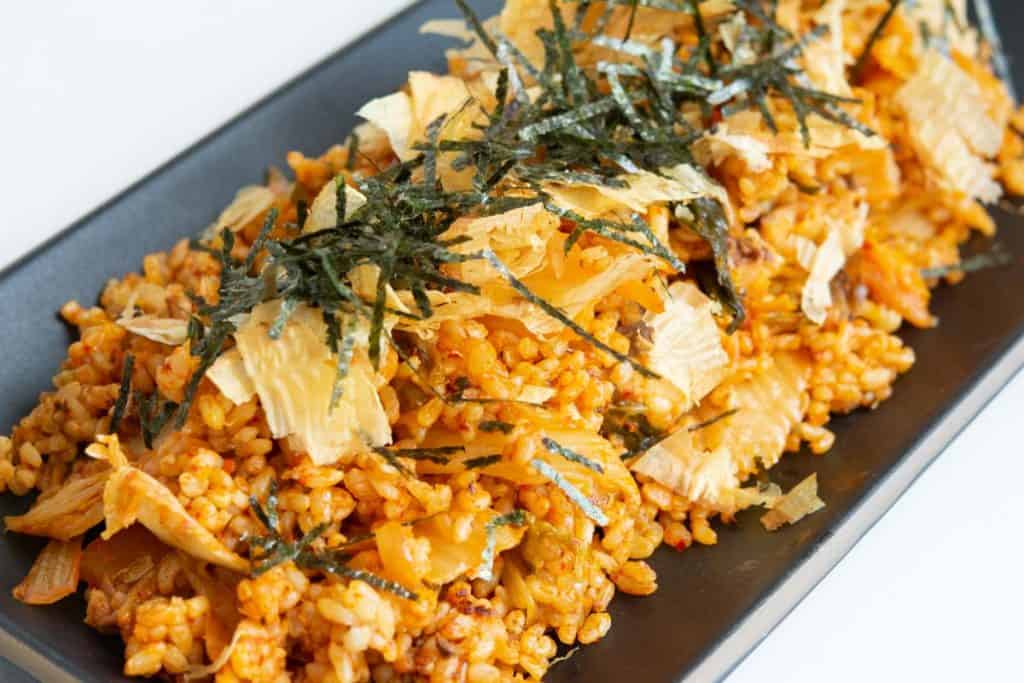 Anytime of year when you don't have much in your kitchen except for some canned tuna, old kimchi, and leftover rice, you can make one of the most extraordinary yet everyday fried rice dishes.
Fried rice can be a dumping ground for leftover bits of vegetables.
But it can also be well composed and thoughtful like an orchestrated symphony such as with this corned beef fried rice or vegan wild rice fried rice.
Jump to:
What to Serve with Tuna Kimchi Fried Rice
This can be served as a main dish for lunch or dinner along side along side a cool cucumber salad or creamy corn soup.
Or serve it as a late night or afternoon snack with edamame pods or scallion pancakes.
Or serve it as a side dish with some meaty Korean BBQ Mushrooms or a silken tofu salad.
Ingredients
Canned tuna – This recipe uses canned tuna packed in oil. I think it tastes better than tuna packed in water, but use the canned tuna of your choice.
Kimchi – It's best if this is sour or old kimchi that has been over fermented to the point that it's really not pleasant to eat raw anymore. Cooking the kimchi is a great way to temper the sour flavor and use up the kimchi without throwing it away. It has more flavor when cooked than not sour kimchi. But if a fresh jar of kimchi is all you have, that will work in this recipe too.
Cooked rice – Cooked brown rice is used in these photos. Does it have to be cold? That is ideal, since cold rice is less susceptible to getting mushy in the pan when cooked fried with wet kimchi. I have seen some chefs throw in hot rice instead of cold rice to make fried rice. It won't separate into individual grains like cold rice will, so if that's ok with you, it's ok with me.
Onion – Fresh onion freshens up vegetables in a stir fry.
Oil – Use a neutral flavored oil that a high smoke point such as avocado oil or coconut oil.
Water – A little bit helps the kimchi cook in the pan to become tender.
Gochujang – THE SECRET INGREDIENT – Not absolutely necessary, but it takes this fried rice to the next level. Guests might eat it and wonder why it's so tasty! Also known as red fermented Korean chili paste, gochujang is made with chili powder, wheat flour, sugar and salt. It is very spicy and salty, so a little bit goes a long way.
See recipe card at the end of this post for quantities.
Optional Garnishes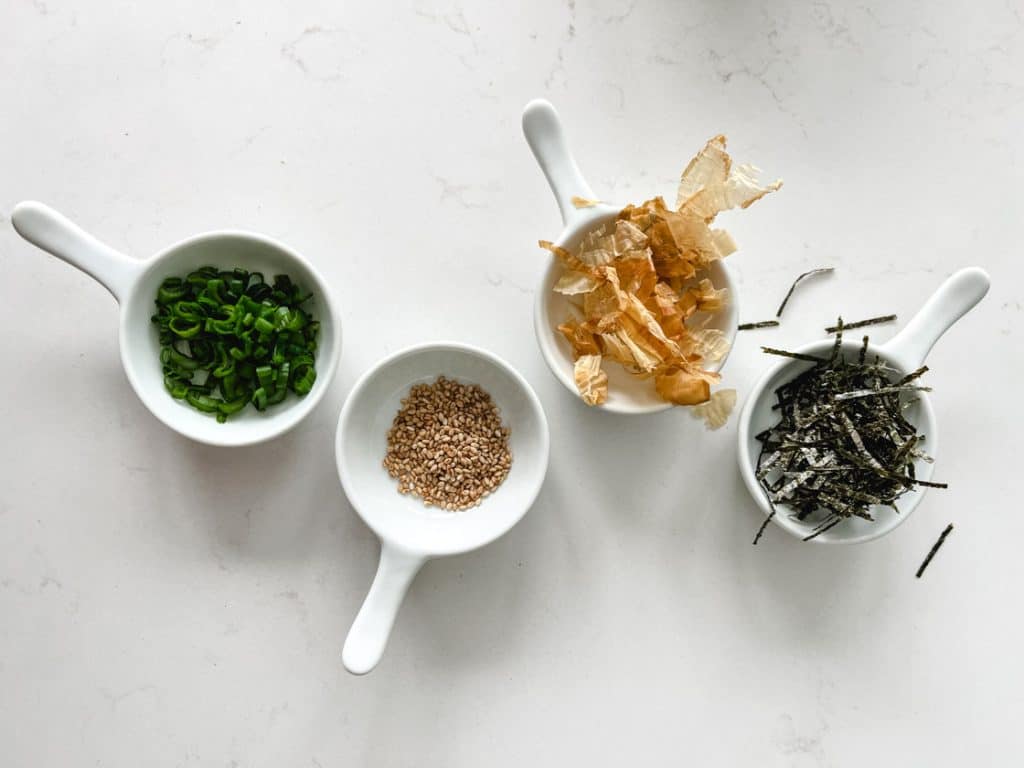 Once you've done all that hard work of frying the rice, all that's left is to cross the finish line. Finish the dish by sprinkling on any of the following optional garnishes:
Toasted Sesame Seeds
Sesame Oil
Sliced Green Onion
Seaweed Strips – Made from dried nori sheets used to make sushi rolls, you can also just cut them into strips or buy them already cut into thin strips.
Bonito Flakes – Made from the bonito fish, a relative of tuna, these dried flakes are used to make dashi fish stock but can also be sprinkled onto finished dishes and eaten as is.
Fried Egg – The classic addition to kimchi fried rice, if you have it in you to fry another item for your meal.
Basic Fried Rice Method
The method for any fried rice is virtually the same: cook your veggies and protein in the pan first before adding cooked rice and seasoning agents (soy sauce, salt).
Because the cooking goes quickly once the pan is heated, make sure your vegetables are chopped and ingredients are on hand near the stove.
Otherwise, the pan is flaming, while you run around the kitchen like a hot flame looking for things (like I've done so many times).
Instructions
The play by play for this tuna kimchi fried rice are as follows:
Heat a nonstick pan to medium high heat. Add oil and onions and saute until slightly translucent, 2-3 minutes.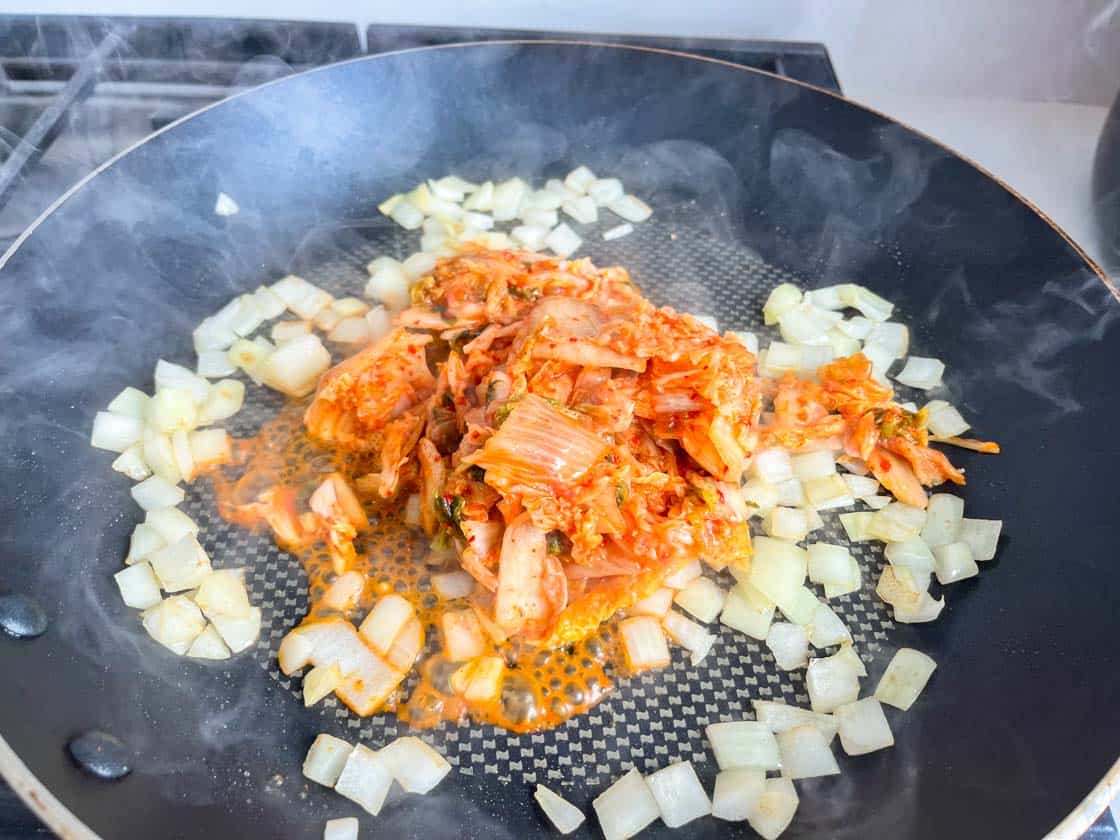 Add the chopped kimchi.
Add water to the pan to help the kimchi cook without burning.
Keep cooking and stirring until most of the water has evaporated, and the kimchi is cooked thru. This will take 4-5 minutes.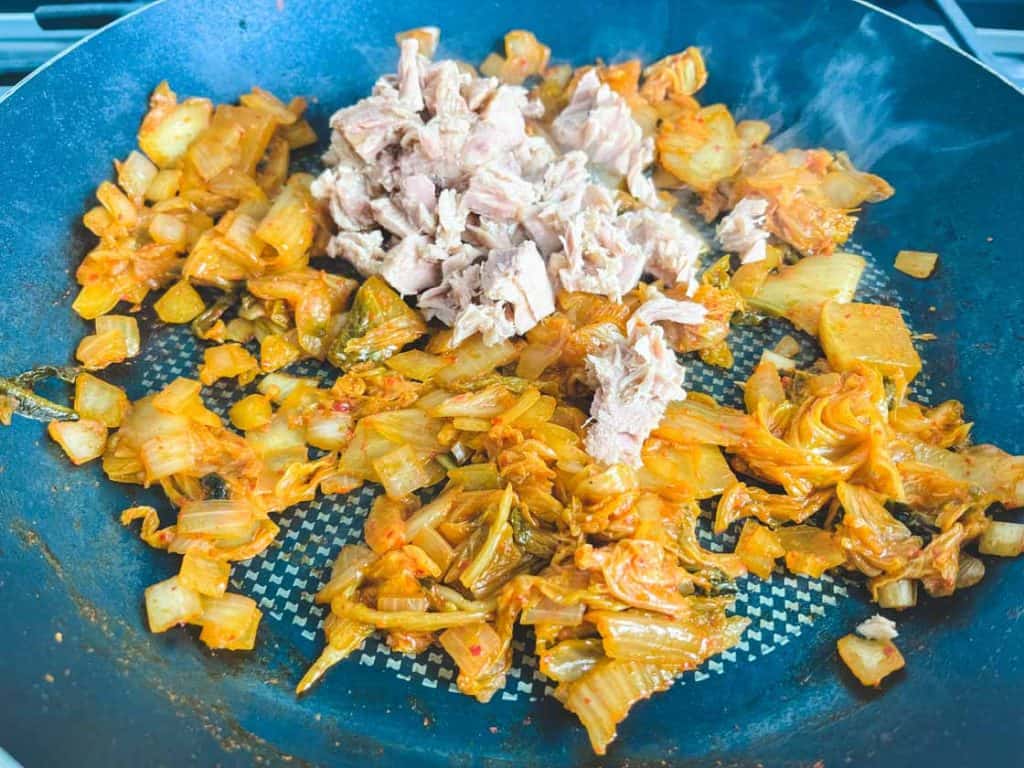 Add the can of tuna to the pan along with the gochujang paste.
Add the rice to the pan. Turn the heat down to medium and keep stirring until the rice, tuna, and kimchi are evenly distributed.
Once the pan is heated, the total cook time is 10-15 minutes.
Substitutions
Vegan – Use vegan tuna instead of regular canned tuna if you're staying away from fish.
Soy Sauce – If you don't have gochujang Korean chili paste, you could use half the amount of soy sauce to flavor this dish plus a pinch of sugar.
Gluten Free – Use tamari if you're on a gluten free diet, instead of gochujang chili paste which is made with wheat flour.
Low Carb – Instead of brown rice, you could use frozen cauliflower rice. Just leave the heat at medium high and cook quickly, since cauliflower rice tends to leach water.
Variations
Not Spicy – Instead of the gochujang Korean chili paste, add some soy sauce/tamari and dried mushroom powder.
Sesame – Add a drizzle of toasted sesame oil at the end for extra sesame fragrance and flavor.
High Protein – Add frozen edamame with the rice and serve with slices of avocado.
Equipment
The addition of oil helps the rice from sticking to the pan, adds flavor, and also distinguishes the rice from plain rice because it's fried!
Using a nonstick skillet/wok or seasoned cast iron pan can help eliminate the need to use too much oil.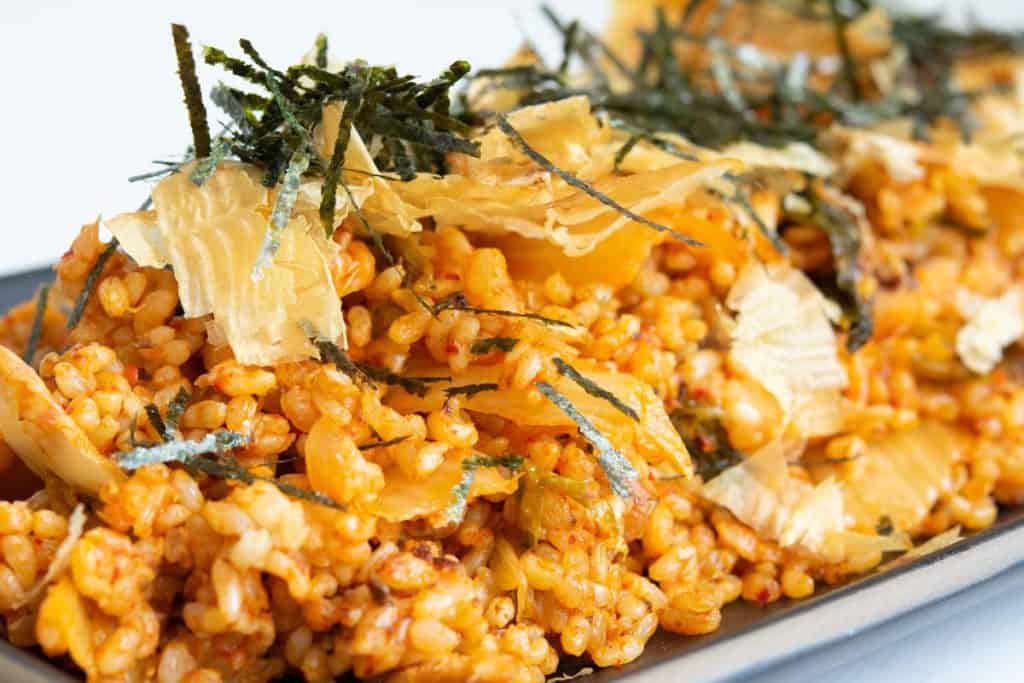 Storage
Store leftovers in the refrigerator for up to 3 days. It won't technically be spoiled after that, but I generally find that it loses too much flavor after 3 days.
Freeze leftovers for up to a month. It's best to freeze the same day the food is cooked when the dish's flavor is at its peak.
Top tip
Make sure the kimchi is cooked through and has turned translucent. Undercooking will result in too much crunchiness and a lingering raw flavor.
Tuna Kimchi Fried Rice
Canned tuna gets schooled with a Korean chili paste that takes what could be an ordinary fried rice to a tsunami of umami.
Ingredients
1

Tb

oil

1/4

c

onion

diced, about 1/2 of a small onion

1/2

c

kimchi

chopped roughly into 1/4 – 1/2" slices

1

can

tuna, packed in oil

See Note 1

1

Tb

gochujang, fermented Korean red chili paste

See Note 2

3

c

cooked rice, cold

I use brown, short grain rice; See Note 3

1/4

c

water
Optional Garnishes
green onions

sliced

bonito flakes

toasted sesame seeds

dried seaweed

cut into thin strips

fried egg

drizzle of sesame oil
Instructions
Heat a nonstick skillet to medium high heat. Add the oil and onion. Saute for 2-3 minutes, while stirring, until the onion starts turning translucent.

Add the kimchi to and pan and stir 1-2 minutes. Cooking the kimchi in the hot oil helps caramelize sugars and develop flavor.

Add water to the pan and cook for 4-5 minutes until the kimchi is soft and translucent. (Without the water, the kimchi tends to dry out in the pan.)

Add the gochujang chili paste to the pan. Stir for 30 seconds to 1 minute.

Add the tuna with oil to the pan and rice. This is the part where you develop patience while stirring for 4-5 minutes until the rice is heated through and coated evenly with all the goodness in the pan.

Serve hot and sprinkle with optional garnishes.
Notes
Tuna packed in olive oil is the tastiest choice.  If you prefer tuna packed in water, that works too.  Just be sure to drain out as much of the water as you can from the tuna, so that extra water doesn't get into the fried rice. 
Gochujang is what makes this fried rice so indulgent.  It does work without it though, and I've eaten it plenty of times that way.  You can omit altogether.  You can also substitute with 1 tsp of soy sauce and 1/2 tsp of sugar for an alternate umami boost.  
Leftover rice that has been refrigerated overnight works best for fried rice.  The grains separate more easily when cold, and they also are less susceptible to becoming mushy in the pan when combined with wet kimchi.  In a pinch, hot rice will work in fried rice too.  Just be ok with a somewhat wetter and clumpier fried rice. 
Nutrition
Calories:
324
kcal
|
Carbohydrates:
44
g
|
Protein:
17
g
|
Fat:
9
g
|
Saturated Fat:
1
g
|
Polyunsaturated Fat:
3
g
|
Monounsaturated Fat:
4
g
|
Trans Fat:
0.01
g
|
Cholesterol:
8
mg
|
Sodium:
252
mg
|
Potassium:
279
mg
|
Fiber:
4
g
|
Sugar:
1
g
|
Vitamin A:
54
IU
|
Vitamin C:
1
mg
|
Calcium:
32
mg
|
Iron:
2
mg
Food safety
The fried rice should be cooked to a minimum temperature of 165 °F (74 °C).
Don't leave cooked rice sitting out at room temperature for extended periods. Rice can be especially susceptible to bacterial growth if left at room temperature due to its low pH. Learn more from the UK National Health Service.
Use oils with high smoking point to avoid harmful compounds.
Always have good ventilation when using a gas stove.
See more guidelines at USDA.gov.
Fortune Cookie 🥠
"A smooth sea never made a skilled sailor." — Franklin D. Roosevelt