Upgrade that 50 cent packet of instant ramen with something besides bacon and eggs. These 21 vegan hacks are easy to do with simple ingredients.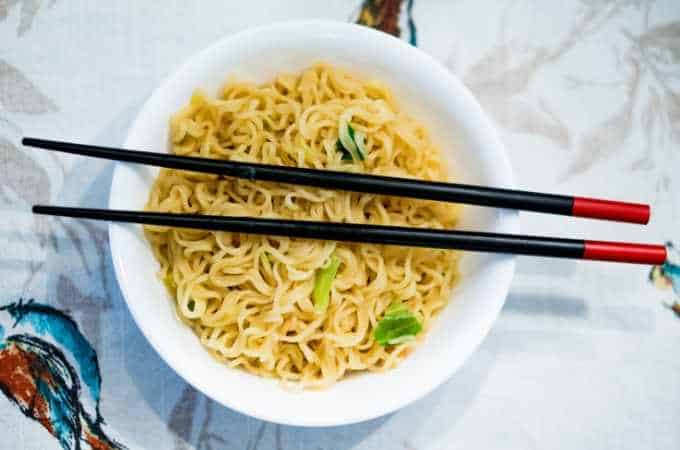 Jump to:
Why You Need to Hack Ramen
While you can make ramen from scratch, we all know it's so much easier to plop open a package of instant ramen and have a meal ready in minutes.
It's just so bland.
There is little fresh flavor that comes from a dehydrated packet of soup mix and maybe a second packet of indiscernible dried vegetables, chopped so small you can't tell what they originally were.
Boiling the soup with an egg or a few slices of meat can add instant flavor, but here are 21 ways to pack vegan ramen with extra savory goodness.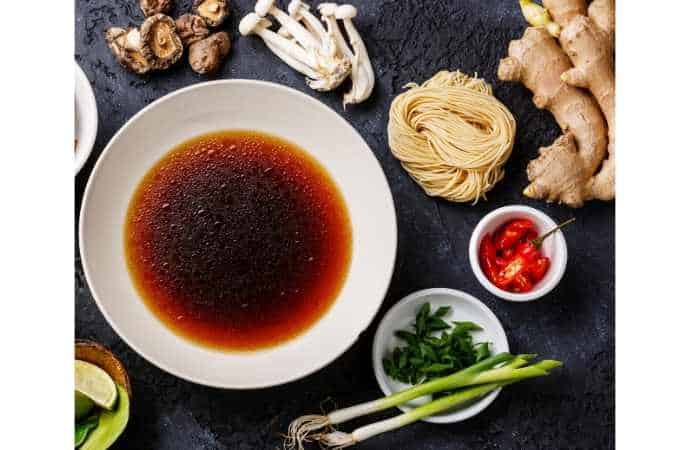 Upgrade your soup base
We know the dehydrated soup base from that little foil packet probably isn't going to taste like mom's homemade broth.
Most brands of vegan ramen usually need a severe boost of flavor. (Scroll down to the end of the post for recommendations on vegan ramen brands.)
Try adding a few of these easy to find ingredients to amp up the umami in that ramen broth:
Nutritional yeast – For that cheesy flavor everyone loves so much, a little sprinkle of nutritional yeast can add a little more fullness to a vegan broth.
Soy sauce – Just a touch will do because it is so salty and the soup base is already plenty salty. You may need to add a little more water to balance out the salt factor.
Miso paste – If you love miso soup, you'll love adding a dab to the broth. Dissolve in a little hot water before hand, so it blends easily into the ramen soup.
Vegan butter – Melt in a pat or two for texture, body, and buttery flavor. Or just leave a big pat on top, so it glistens for your guest to swirl in themselves.
Peanut butter – If you'd like a little Thai flare and additional texture, spoonful of peanut butter can add so much body to the broth. You can mix it with a couple tablespoons of the hot broth first, so it dissolves more easily into the rest of the soup.
Seaweed – Add a few strands of rehydrated wakame to add more seaside flair to your soup. My favorite thing to do it just to boil the water with a few strands of the dried wakame until its fully rehydrated, and then add the noodles and soup packets. The water becomes this rich sea flavored soup that makes a big difference. Since the dried seaweed does soak up water, you'll need to add about 1/2-1 cup of water to recipe, so there will actually be soup instead of just seaweed and noodles.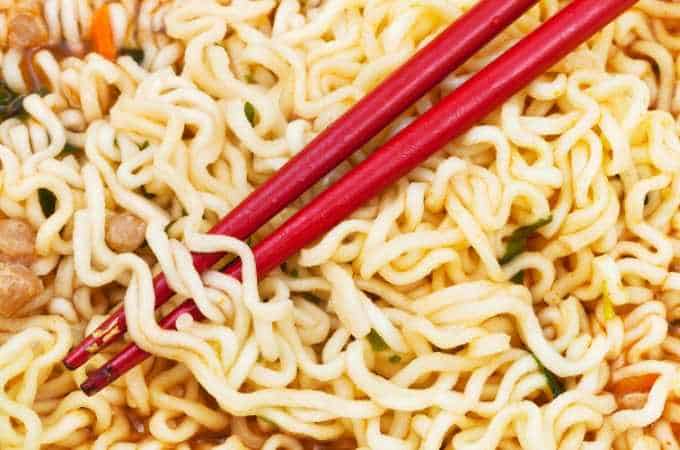 Upgrade your noodles
Here are a few simple tricks to make those instant noodles just a little bit more "gourmet" shall we say.
7. Cook the noodles in vegetable stock instead of water.
8. Boil the noodles in a separate pot of water so they don't get gummy. Some of the excess starch will wash off instead of ending up in your soup.
9. Undercook the noodles, so they have some al dente chew. We all know how overcooked noodles are just a bit too plumpy and mushy sometimes. Undercooking them allows them to continue rehydrating while in your soup bowl as you eat.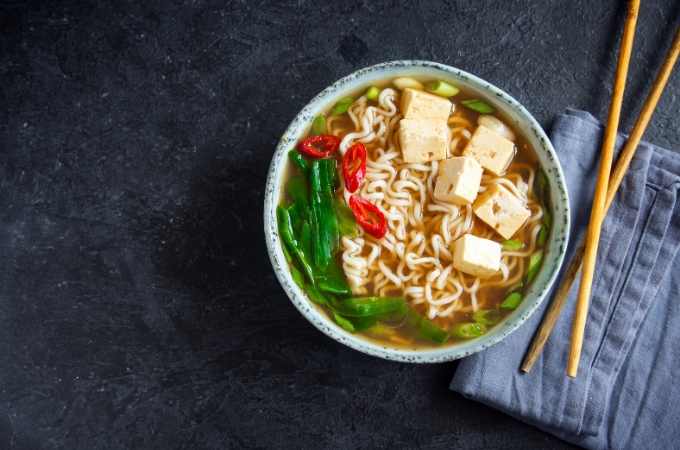 Add some easy toppings
You can't add meat or egg, but you can add some colorful vegan options to brighten up those pale yellow noodle strands that look oh so lonely.
10. Tofu – Drop in medium or firm cubes with the noodles as they cook, to drench in all that yummy soup flavor.
11. Frozen edamame – These add green color and protein. They'll just need about 15-30 seconds in the pot to cook and stay bright green.
12. Frozen peas and carrots – Because aren't these sitting around in the freezer anyway? These can be added at the end of cooking for just 15-30 seconds.
13. Frozen corn – Add this along with vegan butter for butter corn ramen (double mmmmm…)
14. Baby spinach will easily wilt into the soup. Chopped up baby bok choy also just needs a minute or two in the simmering soup broth. Other greens you could try are baby kale or shredded swiss chard.
15. Mushrooms – No vegan meal is complete without fungus it seems. Add in sliced shrooms of choice to cook with the noodles in the boiling soup.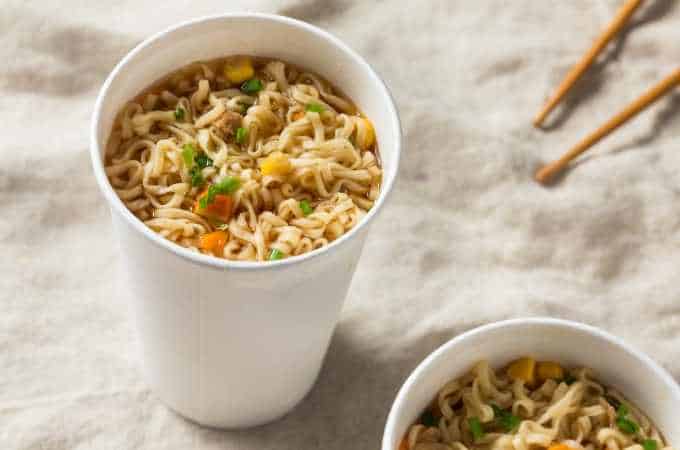 Don't forget the garnish
Put the cherry on top with these vegan garnishes for a pop of flavor and color.
16. Chili sauce – Whatever favorite hot sauce you have sitting in the fridge. Sriracha is a favorite, but I Iike a little hot chili oil too.
17. Togarashi – This is the dried red chili flake seasoning that sits on the table at Japanese ramen restaurants. It is a classic addition for authentic Japanese ramen.
18. Furikake – This flavorful seaweed seasoning is commonly used for rice but works so well on ramen too.
The blend of dried seaweed strips, toasted sesame seeds, a little sugar, and other seasonings adds that little something extra to the instant ramen.
19. Nori crisps – These seaweed snacks everyone loves so much soften in the soup and turn silky. I love swirling it into the broth and eating bites of it with the noodles.
20. Fresh green onion or cilantro – Fresh herbs go a long way to give pantry food some life off of the shelf. Chop up some green onions or cilantro for an added fresh and vegetal flavor.
21. A few toasted sesame seeds and/or a drizzle of sesame oil provides nuttiness and savoriness.
Bonus: A reader mentioned that she loved topping her ramen with everything bagel seasoning. Does it get any better than that?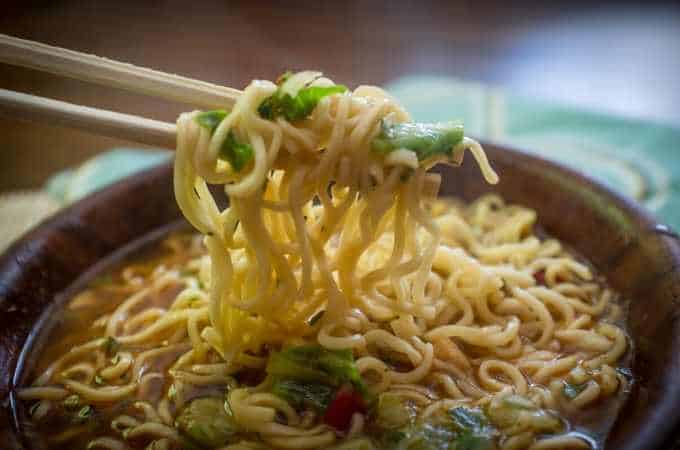 Brands of Vegan Ramen
Most packs of instant ramen come in beef, chicken, or shrimp flavors, but there are a few brands that are vegan friendly including these listed below.
Favorite Brand
Nongshim Veggie Noodle Soup – I've tried, bought, and eaten many packs of this ramen. What's so interesting is that I think it tastes even better than the regular seafood/meat flavored versions!
Brands to Try
I haven't tried these vegan ramen brands, but they look like really fun flavors to try.
Annie Chun's Spicy Miso Ramen. – Miso flavor! Already packaged into the soup.
Nissen Top Ramen Chili Flavor – If you like it spicy, this may be the brand to try. No MSG in the soup base either.
Koyo Mushroom Ramen – The ingredients include kombu and shiitake mushroom powder, hopefully in large eough quantities to make an impact.
Mighty Mike's Vegetarian Kimchi Ramen – Made with organic noodles and includes vegan kimchi? Come on.
No matter which brand you buy, you've got 21 hacks to make it the best darn bowl of ramen EVER.
More Easy Vegan Ideas
Do you love ramen? Pin this post!