Crunchy, tender escarole greens paired with creamy white beans make for a very cozy and filling meal. Warm up with this comforting and complete dish, ready in 30 minutes or less.
Beans and greens are a classic Italian American dish guaranteed to warm you up and fill you up. Typically it is finished with grated parmesan cheese, but in this vegan version, you won't miss or need the cheese.
Similar to a vegan green bean casserole where you can exclude dairy products, these vegan beans and greens can be served with Roasted Delicata Squash or a nice piece of toasted garlic bread.
The main ingredient is escarole, a vegetable in season year round but peaks in the cooler winter months. Warm temperatures can cause the leaves to become too bitter.
Escarole has a pleasing bitter taste, along with crunch and freshness. If you haven't tried it before, you're in for a green leaf treat! It's one of my all time favorite vegetables, and this recipe is an easy way to learn how to enjoy it regularly.
Jump to:
Ingredients
Other than the head of escarole, this dish uses simple pantry ingredients you likely already have at home.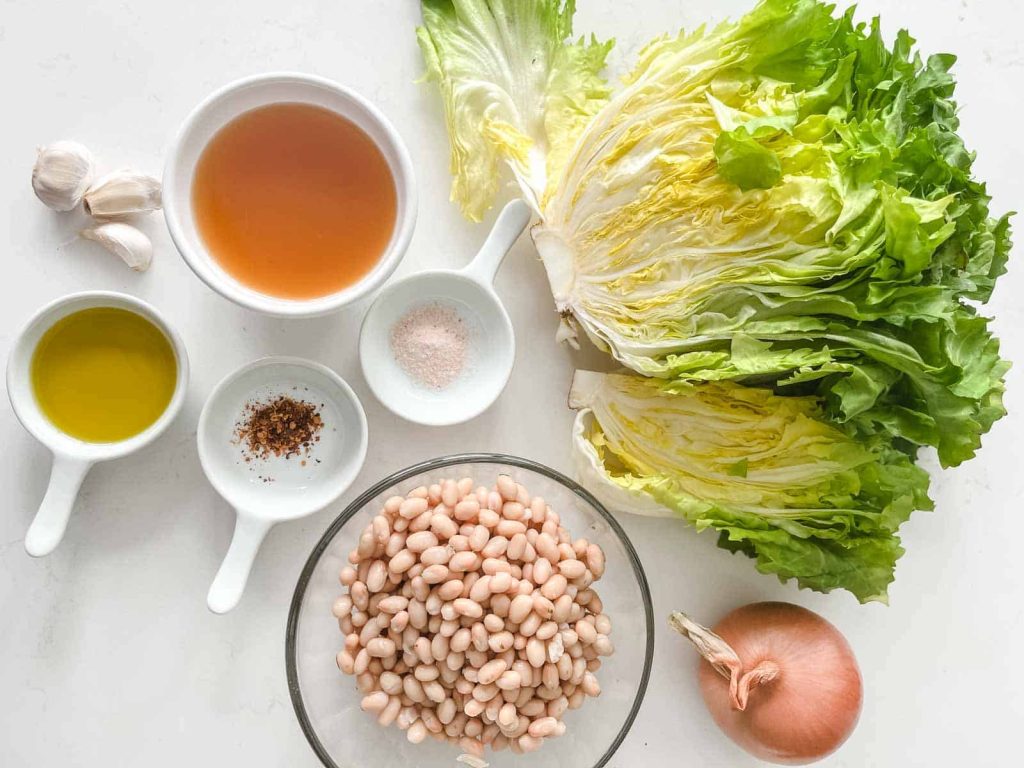 Escarole is a member of the chicory family (whose members include endive, frisee, and radicchio) and technically not a lettuce. It looks like a curly head of romaine leaves, but unlike delicate salad greens, escarole can be eaten raw or withstand braising. Cooking tenderizes the thick white stems while still providing some crunch, as long as it is it not overcooked.
Cannelini beans – Canned beans work very well in this recipe. If you prefer cooking your own beans from scratch, that works too. (I wish I had the patience for that.)
Onion – Caramelizing the onions is essential for adding flavor in this vegan dish.
Garlic – This allium adds earthiness so the greens don't taste so much like rabbit food.
Red Chili flakes – Also known as peperoncino flakes, these add spice and heat to this dish. I use in place of black pepper, but you could substitute black pepper if you don't like spiciness.
Extra virgin olive oil – Essential for adding flavor to this very simple dish.
Vegetable stock – Also essential for adding more umami flavor to this cheeseless dish.
Salt – Pink himalayan salt is pictured above but use the salt of your choice.
Fresh thyme or rosemary – Optional and not pictured. These add an element of herbiness you would get if you cooked the beans from scratch, Tuscan style, where herbs are added to the pot of simmering beans.
See the recipe card below for quantities.
Instructions
This process moves quickly and your dish should be ready to eat in 15 minutes, after your vegetables are washed and chopped.
Heat the olive oil in a Dutch oven or large pot that will hold all the escarole.
Caramelize diced onions until browned. Then add fresh minced garlic and saute for 30 seconds or so until fragrant.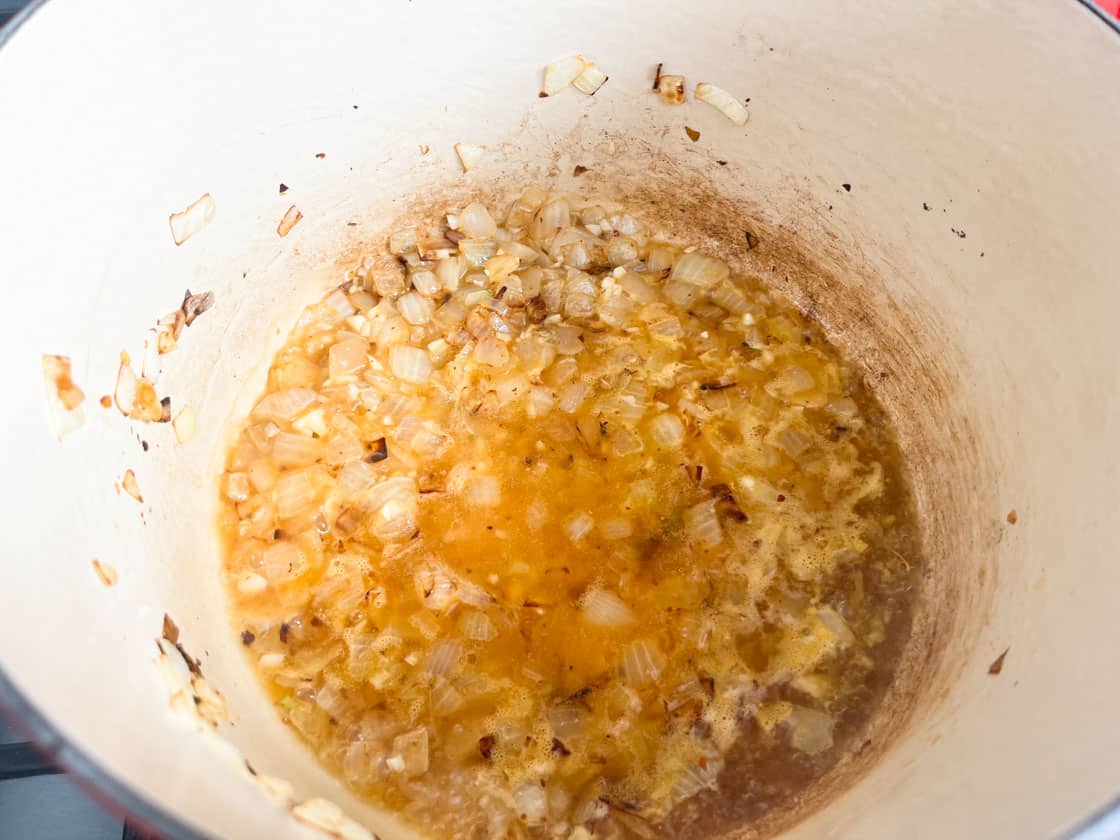 Add vegetable stock to deglaze the pot and scrape up any browned bits with a wooden spoon or silicone spatula.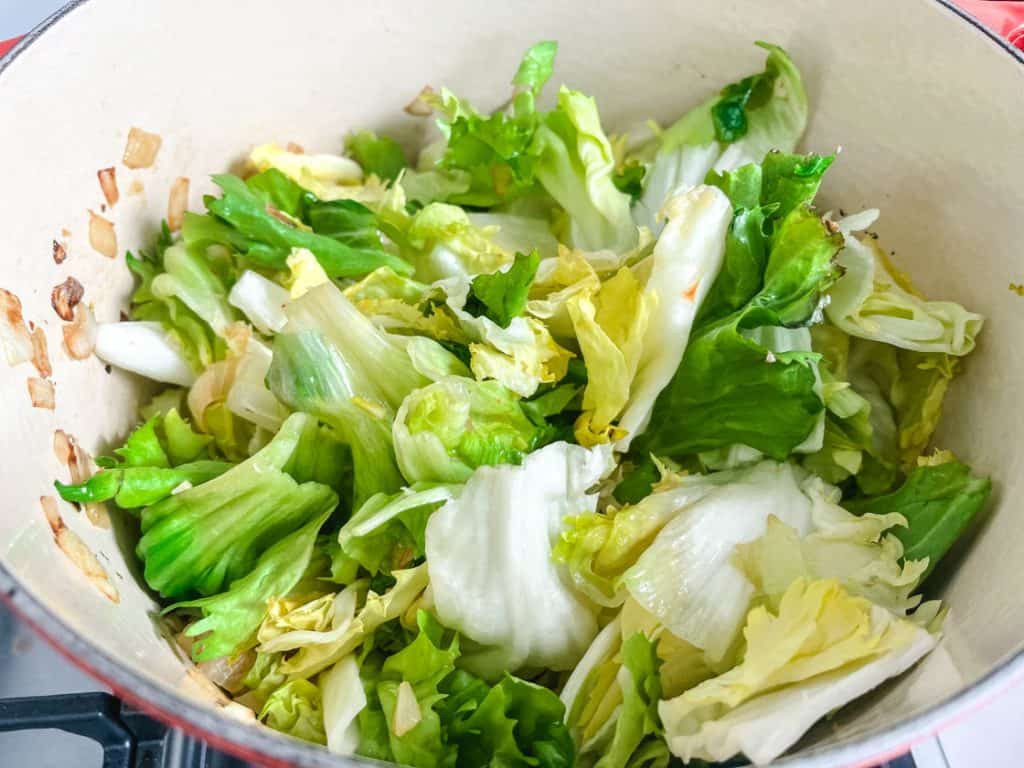 Add the escarole to the pot. Make sure it is washed and spun dry to avoid adding additional water to the recipe.
Cook for about 4-5 minutes until the stems are tender but still have a bit of a crunchy bite.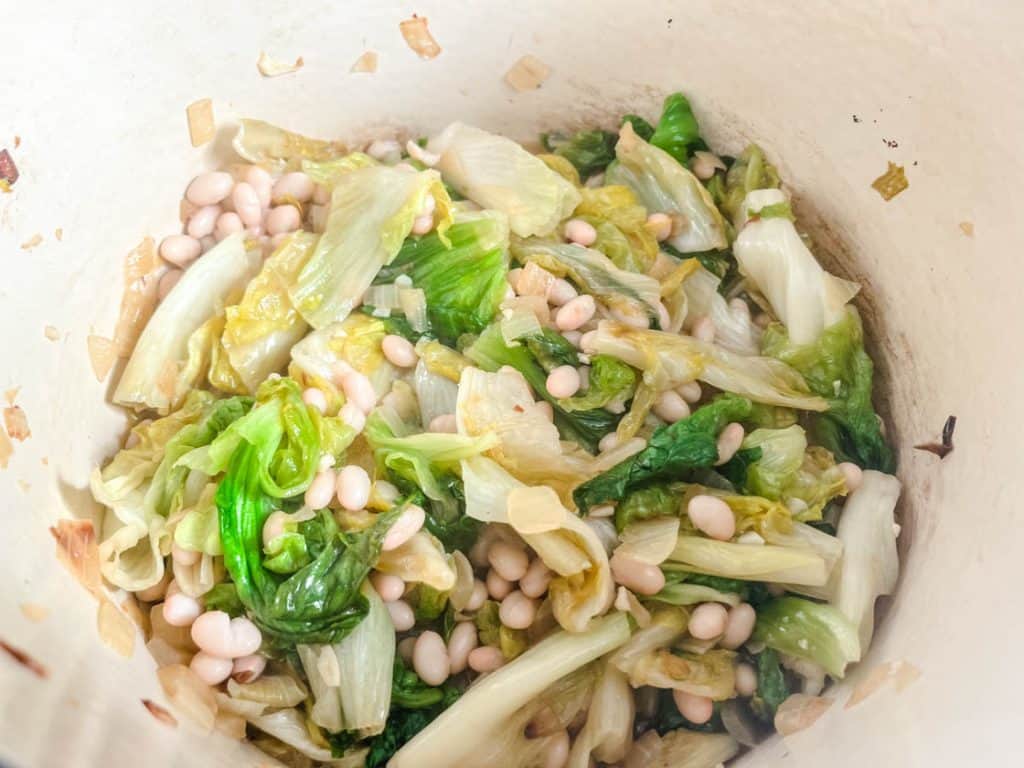 Add the beans and cook for another 2-3 minutes to warm through.
Hint: Once the beans are added, avoid over stirring so that they don't break up too much and remain intact as whole beans.
Substitutions
Escarole can sometimes be hard to find. I've seen it at Whole Foods and some stalls at the farmers market but not in the regular big box grocery stores. Try these easy to find substitutions.
Kale or Swiss Chard – You can substitute with kale or swiss chard, but you will just need to cook a few minutes longer. Kale and swiss chard are much heartier greens with thicker leaves that need longer cooking. Because of their toughness, these greens are harder to overcook and still stay relatively green colored and appetizing looking.
Spinach or baby spinach – Spinach will cook quickly and turn a murky green color if overcooked. Reduce the cooking time by half if you use either one of these. No need to cover the pot to let these simmer. Just let them wilt down in the pan if using baby spinach. For regular spinach with stems, cook for a minute or two longer. Cook them too long, and they will turn mushy.
Variations
Fresh thyme or rosemary – These add an element of herbiness you would get if you cooked the beans from scratch, Tuscan style, where herbs are added to the pot of simmering beans
Nutritional yeast – If you did want some "cheesy" flavor, add 1 – 2 teaspoons with the beans to season the food. Just be sure to reduce the amount of salt, since nutritional yeast does impart saltiness.
Equipment
You will need a pot large enough to hold all of the escarole leaves that will eventually wilt down to less than a quarter of its original volume.
I used a 5 quart, deep bottomed, dutch oven for this recipe.
A Dutch oven is great for holding heat, but honestly not necessary for this recipe. It is more essential for longer cooking stews and braised meats, so the pot retains heat as it cooks for hours in the stove or oven. That way you don't have to use as much heat on the stove top.
A stock pot will work fine, like something you cook spaghetti in. Just be careful for sauteeing the garlic and onion at the beginning of the recipe. Sometimes stock pots can have a very thin bottom which will heat the oil very quickly and possibly cause the onion/garlic to burn.
Storage
Fresh escarole is best eaten within a week before its leaves may start to deteriorate.
Once the recipe is prepared, it's best to eat this dish the same day or the next day.
The escarole greens are tender and not meant to be stored for long periods. Freezing is defintely not recommended.
Top tip
Do not overcook the escarole.
While escarole greens are hearty and withstand braising, once overcooked the bright green leaves turn a murky, swamp color. Though still edible, it just may look unappetizing.
Stand there or set a timer. But don't walk away and forget to come back 10 minutes later!
FAQ
What is the history of beans and greens?
Also known as scarola e fagioli in Italian, this dish is thought to have originated in Southern Italy, particularly Tuscany where white beans are a common side dish and eaten profusely.

According to Bon Appetit magazine, any Southern Italian immigrants settled in the northeastern US (New Jersey and Pennsylvania) between 1880 and World War I.

This dish has since been embraced by Italian Americans and others who crave a warm meal that is inexpensive, vegetarian, and soul satisfying.
Can you freeze beans and greens?
Generally no. You can freeze anything you want, but the escarole leaves are delicate and the amount of liquid in this dish will make large ice crystals and change the texture of the dish upon defrosting and reheating.
Which beans are vegan?
All of them! Just watch out for prepared bean products where animal ingredients may have been added, such as lard, butter, or chicken stock.
How do vegans make beans taste better?
Salt, fat, and proper cooking. Make sure the beans are cooked properly so that they are creamy rather than even the slightest bit crunchy. Canned beans generally do a good job of cooking the bean to this cooking stage.

Since they already have a creamy texture, the right amount of salt can make your beans go from mediocre to astronomical.

Adding a plant based fat such as vegan butter or olive oil can enhance the flavor of the beans while making them more filling as well.
Related Vegan Recipes
Looking for other recipes like this? Try these:
Vegan Beans and Greens
Since there is no cheese in this dish, the flavor comes from caramelized onions and a hearty vegetable stock. Yet it still makes for a satisfying and filling meal!
Ingredients
1/2

lb

escarole

chopped into 2" pieces, washed and spun dry

1

Tb

olive oil

I use extra virgin

1

ea

small onion, diced into 1/4"-1/2"

or about 1/2 c diced onion

1

clove

garlic

minced or put through the garlic press

1/2

tsp

salt or to taste

I use pink Himalayan salt

1/4

tsp

red chili flakes

aka Italian dried red peperoncino flakes

1/2

c

vegetable stock

1/2

can

cannelini beans

rinsed and drained
Instructions
Wash and spin dry the escarole leaves. Dice the onions and mince the garlic.

Heat the olive oil over medium high heat in a large Dutch oven or stock pot. I used a 5 qt Dutch oven.

Add the onion, stirring occasionaly until browned on the edges. This can take 4-5 minutes.

Add the garlic, salt, and red chili flakes. Stir for about 15-30 seconds until fragrant.

Deglaze the pot by adding vegetable stock. Scrape up any browned bits (fond) that have accumulated in the pan with a wooden spoon or heat safe silicon spatula. This will take about a minute or two.

Add the escarole leaves to the pan. Stir what you can. There will be so many leaves that it may be difficult to stir. Cover and cook for 2-3 minutes. Then go back in the pot and stir. Then cover and cook for another couple minutes until the greens are still crunchy but tender.

Add the beans to the pot and stir gently. Cover and cook for 2-3 minutes to warm through.

Taste for seasoning. Depending on how salty your canned beans and vegetable stock are, you may need to add more to taste.
Notes
1.  This makes 2 servings with 1/2 a can of beans.  For two people with a side of hearty sourdough toast, it makes enough food for a meal.  The recipe can be doubled for leftovers the next day. 
2. I use extra virgin olive oil to cook with in this recipe. There are some that contend the smoke point is lower on extra virgin olive oil and creates harmful free radical chemical compounds upon heating.  Some extra virgin olive oil, however, do have high smoke points.  Read more in this post about olive oil. 
Nutrition
Calories:
166
kcal
|
Carbohydrates:
22
g
|
Protein:
8
g
|
Fat:
7
g
|
Saturated Fat:
1
g
|
Polyunsaturated Fat:
1
g
|
Monounsaturated Fat:
5
g
|
Sodium:
1082
mg
|
Potassium:
368
mg
|
Fiber:
9
g
|
Sugar:
1
g
|
Vitamin A:
2657
IU
|
Vitamin C:
8
mg
|
Calcium:
129
mg
|
Iron:
3
mg
Food safety
A quick reminder to keep these tips in mind to keep your food safe to eat: