Unlike other relatively inexpensive fish, trout does not have an association with can openers or cheap imports.
Instead, trout calls to mind the beauty of the great American outdoors: cast iron pans sizzling over smokey campfires, crystal clear lakes, recreational fishing, and clean water.
While farmed fish can be associated with uncleanliness and pollution, trout need clean water to live whether that's in a pond, lake or stream.
Even though trout has successfully made its way to mass production in acquaculture farms, it retains an aura of being wild and pristine.
In fact, farmed American rainbow trout is a recommended sustainable fish by the Monterey Bay Aquarium Seafood Watch.
You probably already know you can serve trout (or most other fish) with the usual suspects of a lemon slices, potatoes (roasted or mashed), and a steamed green vegetable of your choice such as green beans or broccoli.
However, trout has the distinction of being affordable enough to eat on a weeknight but is still attractive enough to serve on the weekend for company.
It is also a very American fish because so much of it is actually from the country, whether wild or farmed.
Trout calls for simple sides with a twist, like these 15 everyday healthy side dishes, using familiar American ingredients.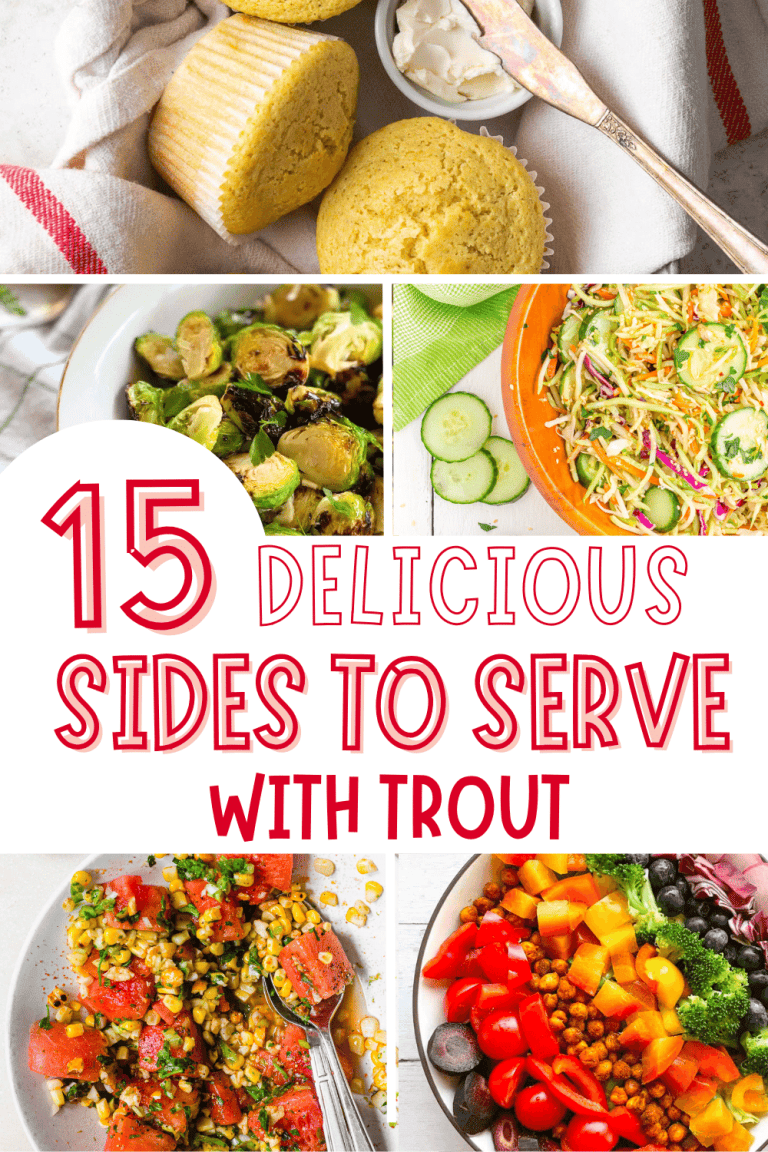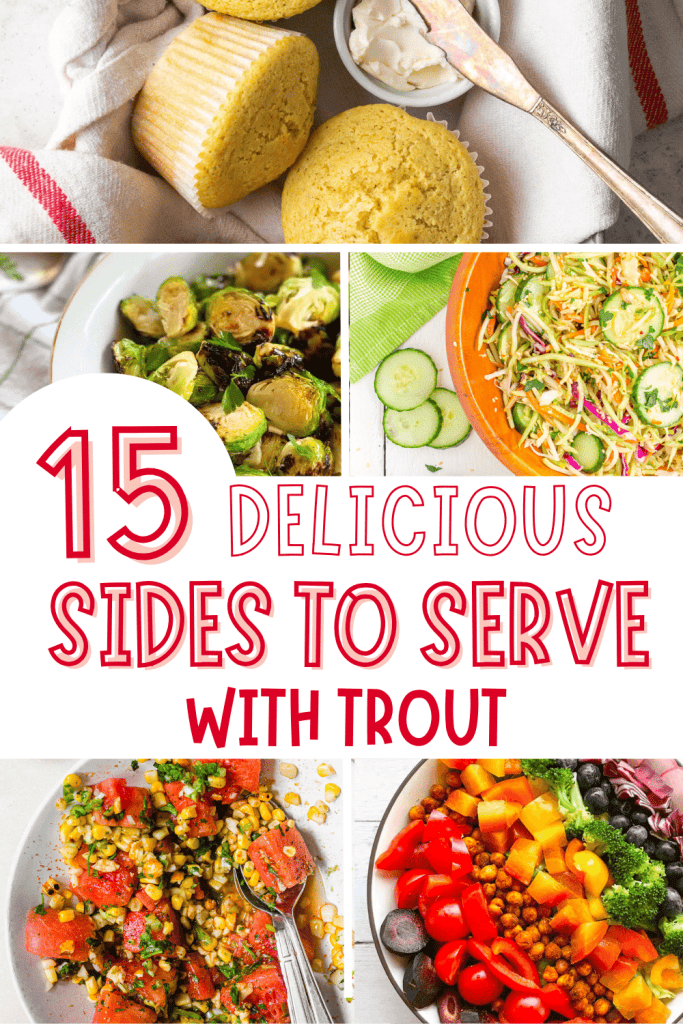 #1 Jiffy Copycat Corn Muffins (Gluten Free)
Did you know you don't need a whole lot of ingredients to make your own homemade corn muffins? Better yet, this recipe is just like the ones from the Jiffy cornbread box mix, except it's gluten free.
The batter only has 8 ingredients and includes a splash of healthful olive oil.
Serve a basket of these freshly baked muffins next to a whole grilled or baked trout for a homey side dish.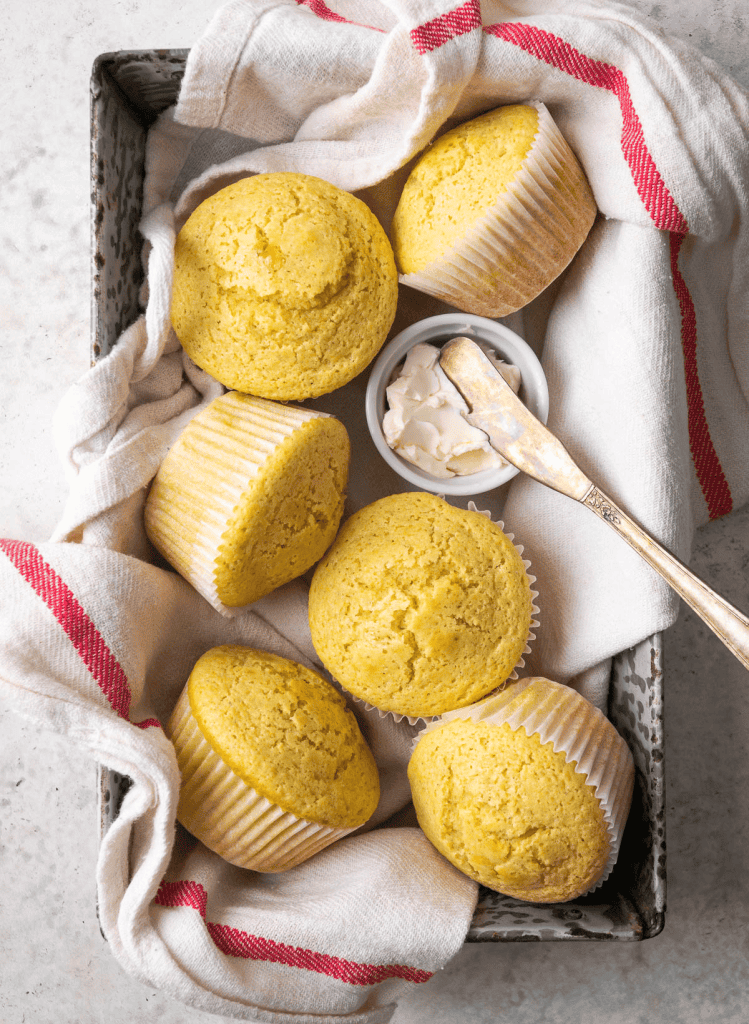 This recipe makes 6 muffins, just like the box of Jiffy cornbread mix does.
Better yet, the batter can be mixed together quickly and needs just 15-18 minutes in the oven.
#2 Easy Broccoli Slaw with Sesame Ginger Vinaigrette
You may have already been thinking of pairing your trout with steamed broccoli. Here is a fresh twist on a broccoli side dish that doesn't require any cooking – broccoli slaw!
You can even buy the bag of broccoli slaw already pre-shredded from the grocery store and save valuable prep time.
Add a tangy, savory sesame ginger vinaigrette for a healthy side dish for your fish.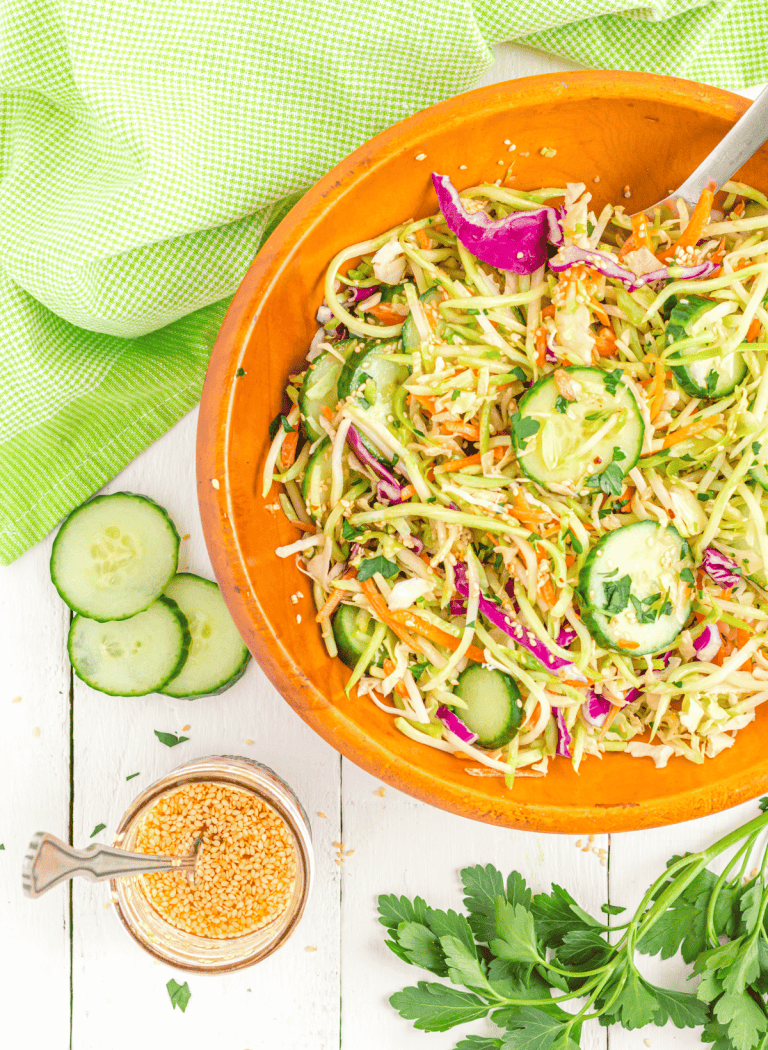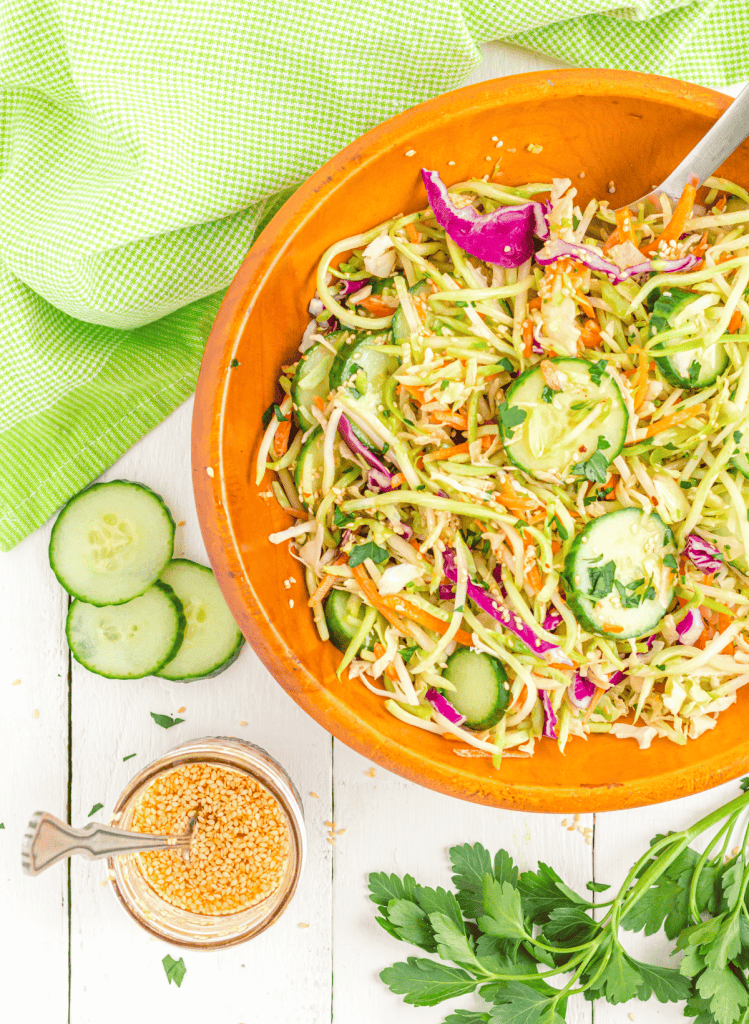 This yummy homemade dressing is sweetened with maple syrup and has a base of tamari, rice vinegar, and sesame oil.
Add crunchy cucumbers, shredded carrots, and fresh chopped parsley to finish off this slaw. No mayo needed!
#3 Watermelon and Charred Corn Salad
Nothing hollers outdoors, picnics, and patios like a fresh cut watermelon and corn on the cob.
You can combine those two iconic American ingredients together in this fresh side dish next to your grilled or seared trout.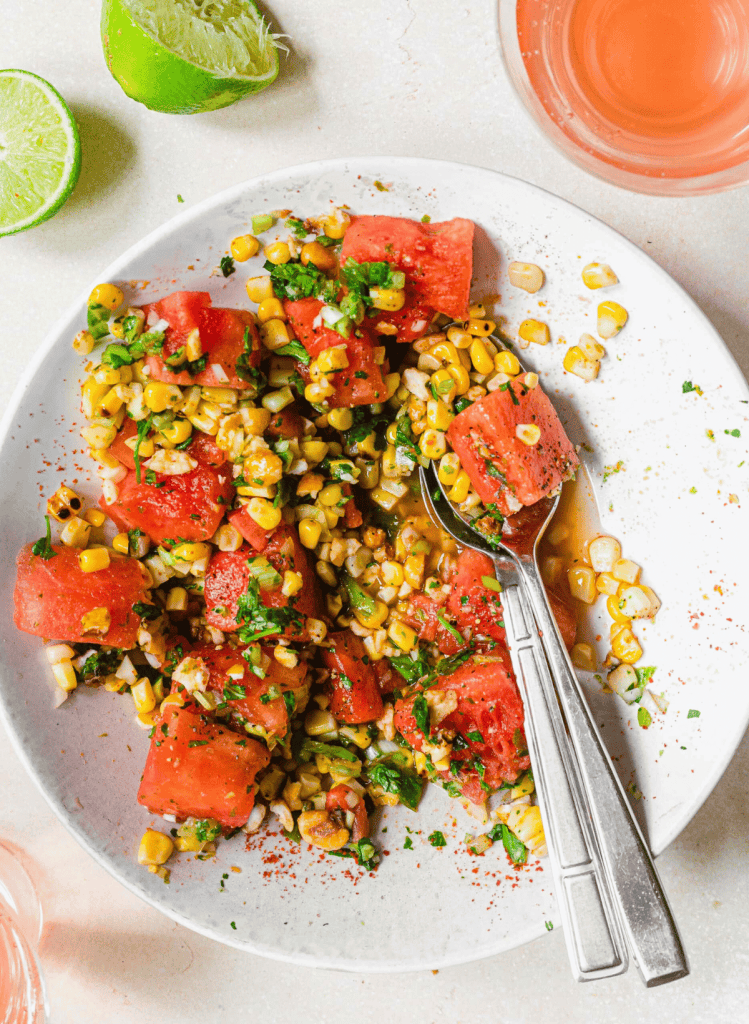 For a bit of a spicy kick next to your trout, this stunning watermelon and charred corn salad has some heat from a homemade jalapeno dressing.
The recipe has less than 10 ingredients along with unique optional garnishes of chili powder and crunchy corn nuts.
#4 Sauteed Green Beans with Basil
Green beans are an often seen sidekick to a fillet of trout or any other fish for that matter.
Instead of steamed or buttered beans, this recipe incorporates fresh basil, which is readily available year round.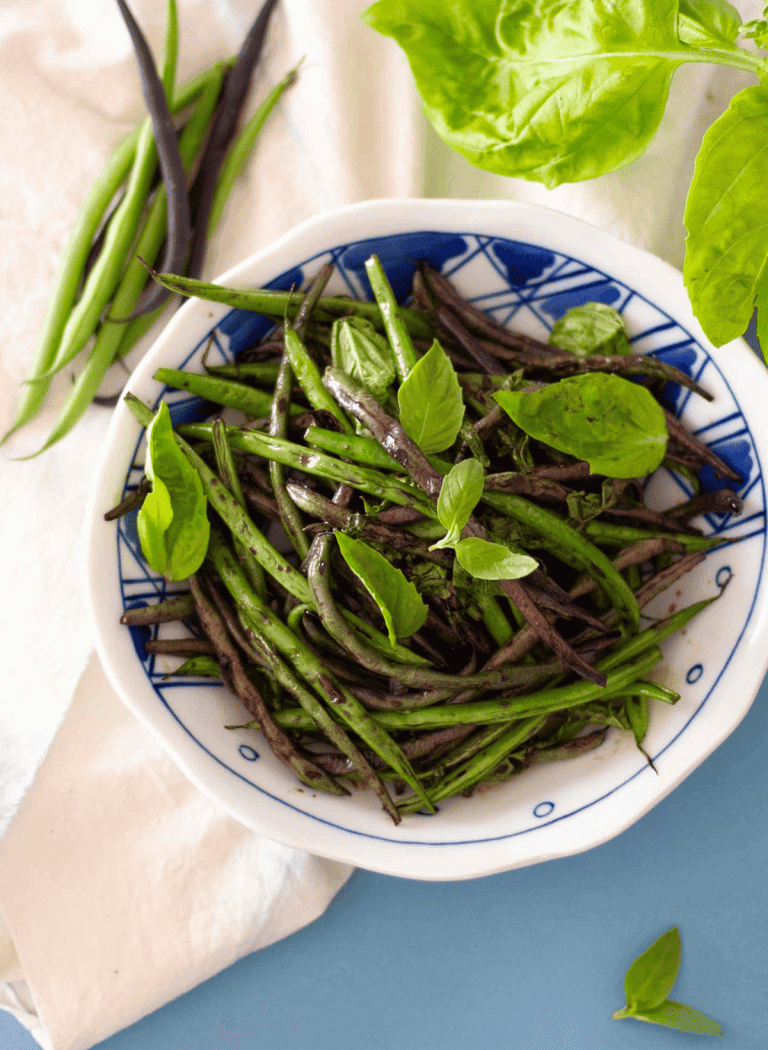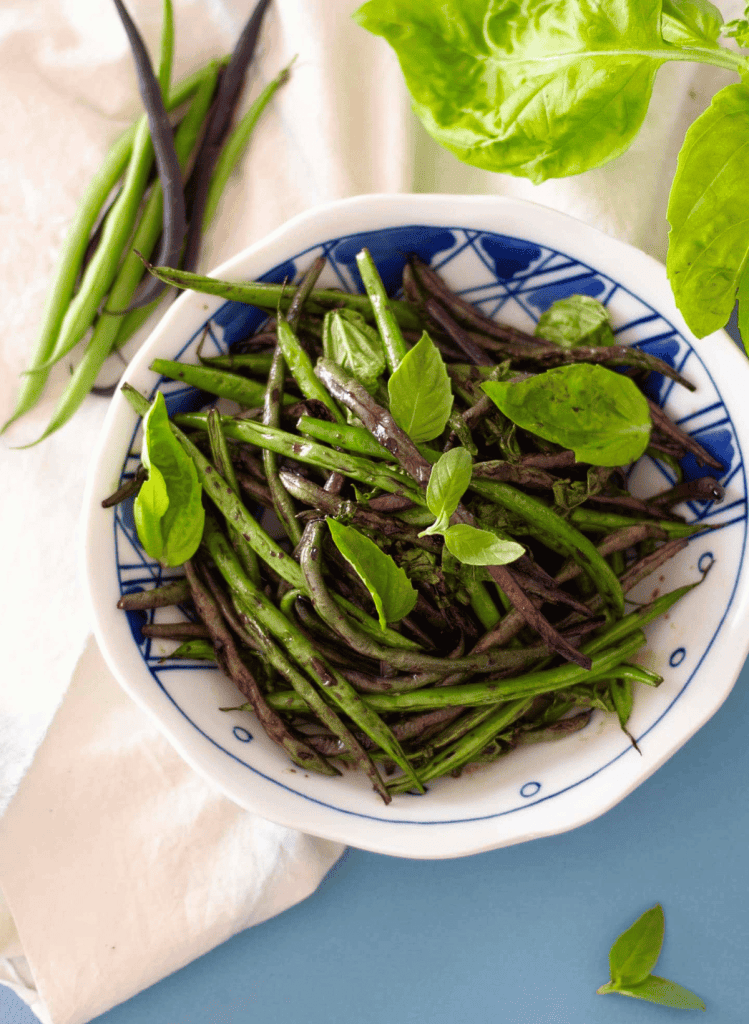 In addition to fresh basil, the green beans are seasoned with a splash of soy sauce, sake, and sweet miring cooking wine for a sweet, savory take on this favorite vegetable.
#5 Mom's Fluffy Zucchini Fritters
Everyone loves zucchini fritters, but how about FLUFFY zucchini fritters?
While they are a popular appetizer, they also make a great accompaniment to baked trout.
Shreds of zucchini are mixed into a simple batter of eggs, flour, and baking powder.
You can pan fry these on the stove top, while the fish is baking in the oven
With this recipe, you can even make them ahead of time and they also freeze well.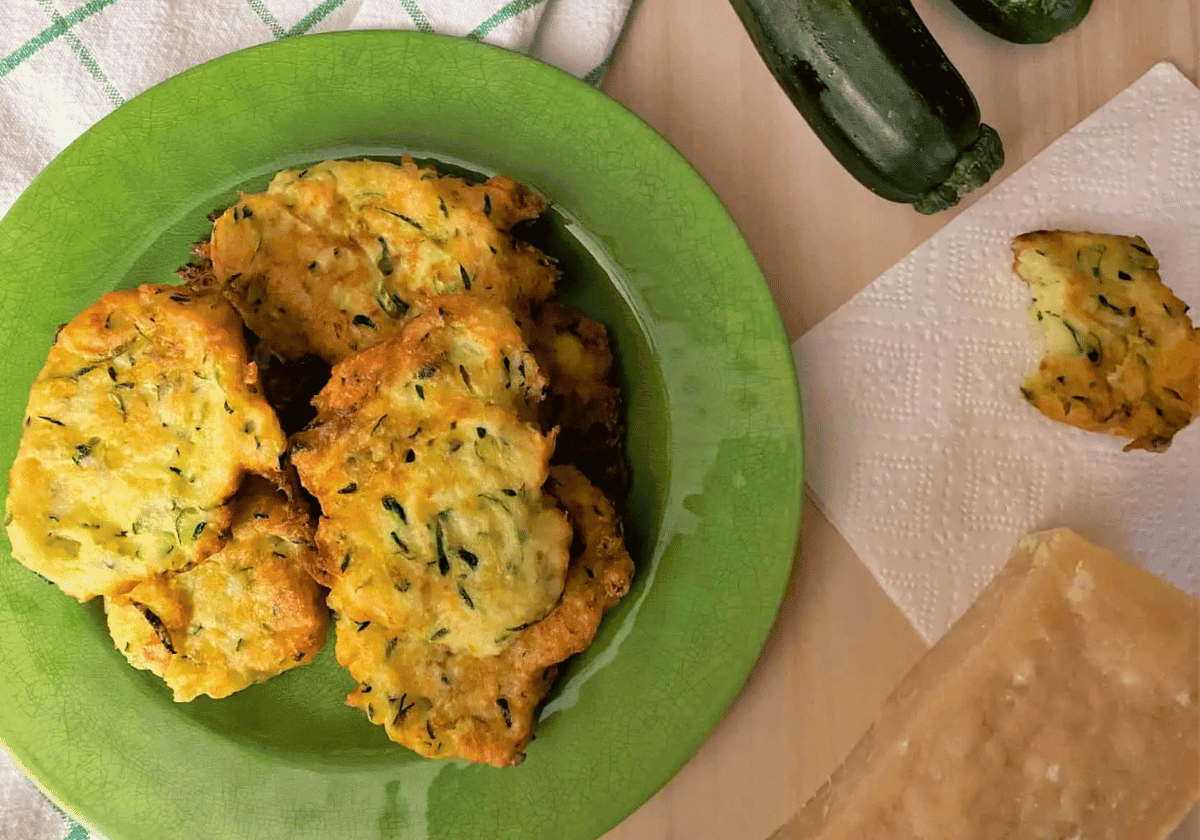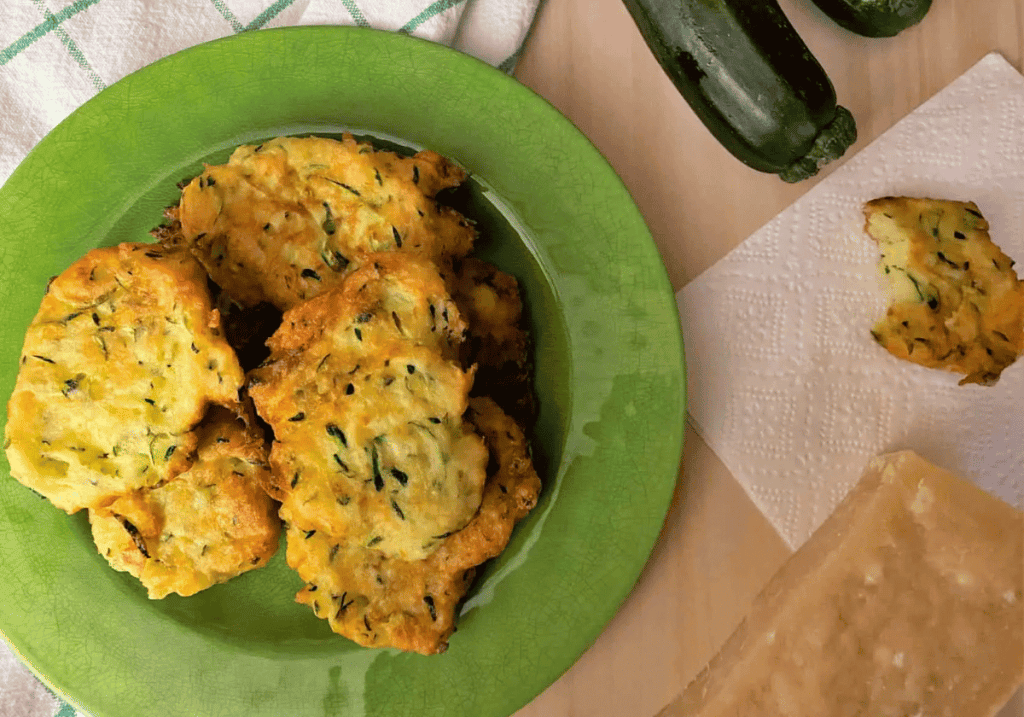 Whether you have some extra zucchini on hand or just feel like "frittering" away in the kitchen, you must check out this family recipe.
#6 Rainbow Salad
What could be a better match with rainbow trout than a rainbow salad!
There is so much beta carotene and anthocyanin goodness packed into this one bowl.
Rainbow trout meat doesn't actually look like a rainbow but comes in monotoned shades of white, pink, or orange.
According to the National Wildlife Federation, "Rainbow trout derive their name from their beautiful, multi-hued coloration. Their bodies are blue, green, or yellowish, shading to silvery white on the underside, with a horizontal pink-red stripe running from the gills to the tail and black spots along their backs."
Even if you do keep the skin on the rainbow trout, by the time you cook it, it just looks gray (or golden brown if you pan fry it with a lot of butter).
Therefore, a rainbow salad is a lovely reminder of why the rainbow trout is so named.
It will look so pretty next to the fish and taste great too.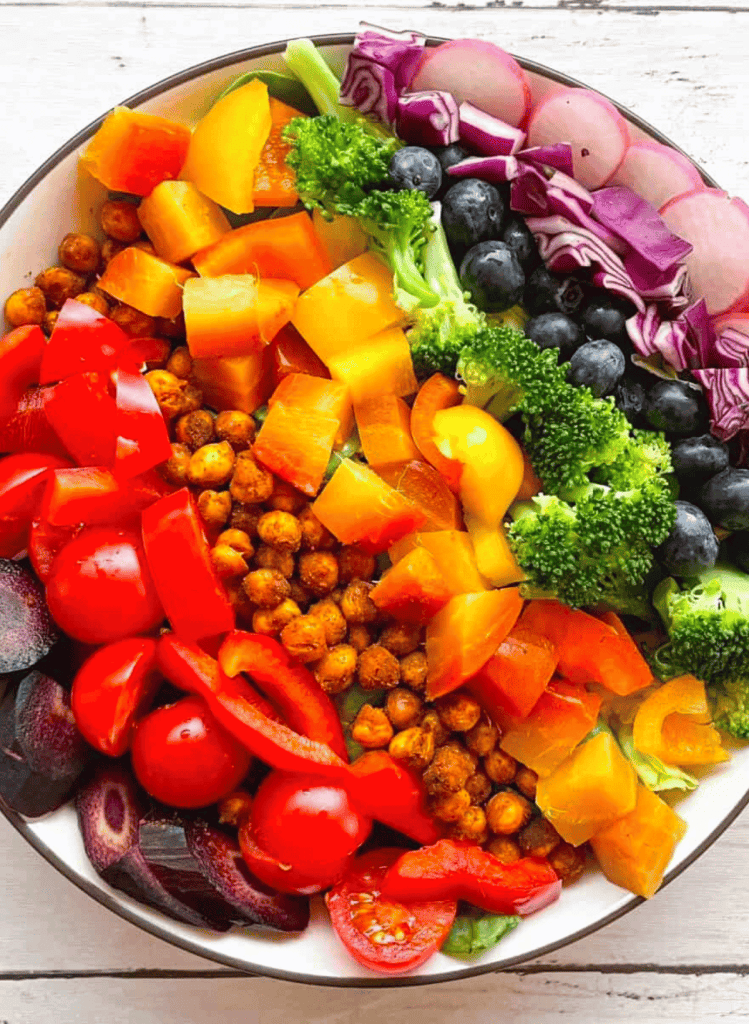 This recipe uses a simple maple dijon dressing made with balsamic vinegar, extra virgin olive oil, maple syrup, and dijon mustard.
This would also be a great make ahead side dish. Just leave the vegetables separate from the dressing.
#7 Avocado Quinoa Salad with Creamy Lemon Dressing
Oh quinoa. Something you feel like you should eat more of but don't really.
Pairing it with creamy avocadoes makes it so much more palatable.
Indigenous to the Andean region of South America, which includes the countries of Bolivia, Ecuador, Chile, and Peru, quinoa is technically a seed though often referred to as a whole grain.
Unlike other grains, quinoa is a complete protein because it has all 9 essential amino acids similar to animal protein.
This salad would make an excellent low carb accompaniment to your trout for a protein packed meal.
What's especially unique about this recipe is the creamy lemon dressing that doesn't have any mayonnaise or dairy ingredients.
Just some fresh lemon juice, garlic, extra virgin olive, and sweet dates are the secret to this simple recipe.
#8 Chili Lime Sunflower Dip
In case your fish needs a little more flavor, texture, and color, a swath of this sunflower seed dip just might be the trick to turn your trout into a treat.
Sunflower seeds, aside from being a classic snack at the ballpark for watching baseball games, can also be blended into a flavorful dip.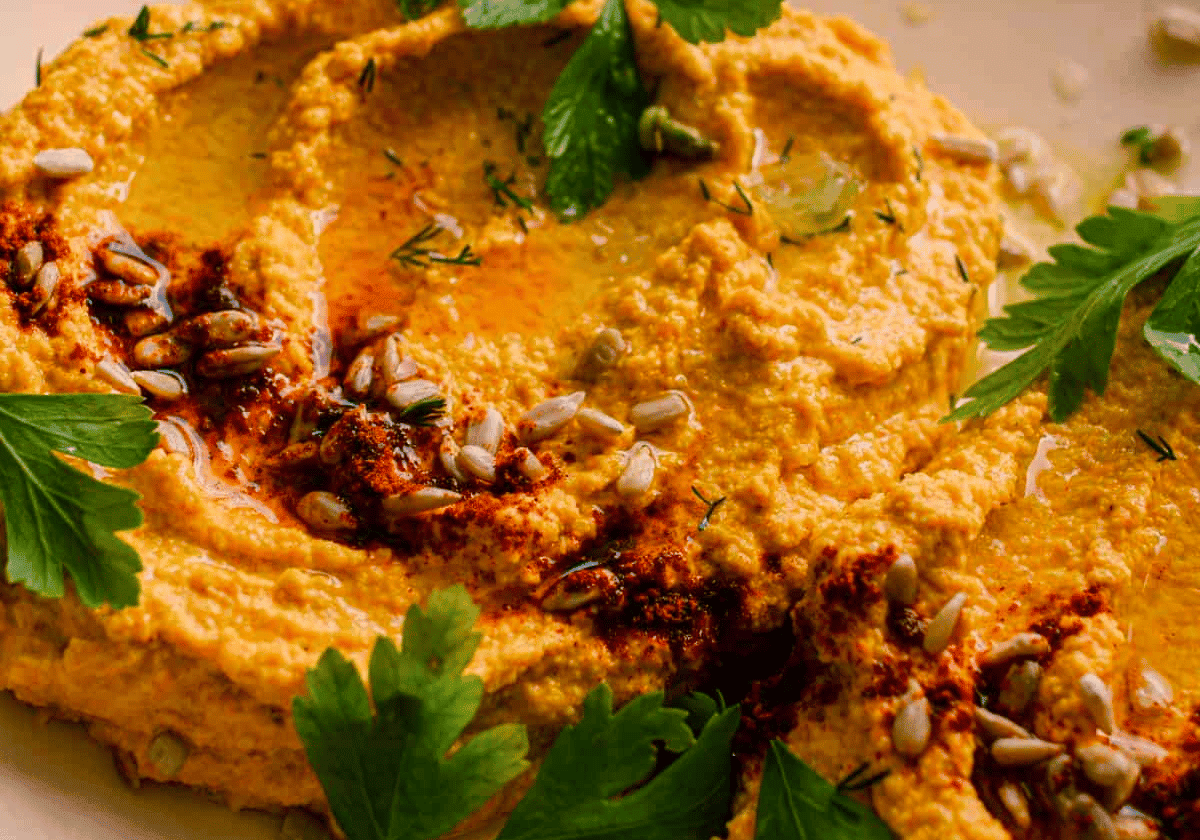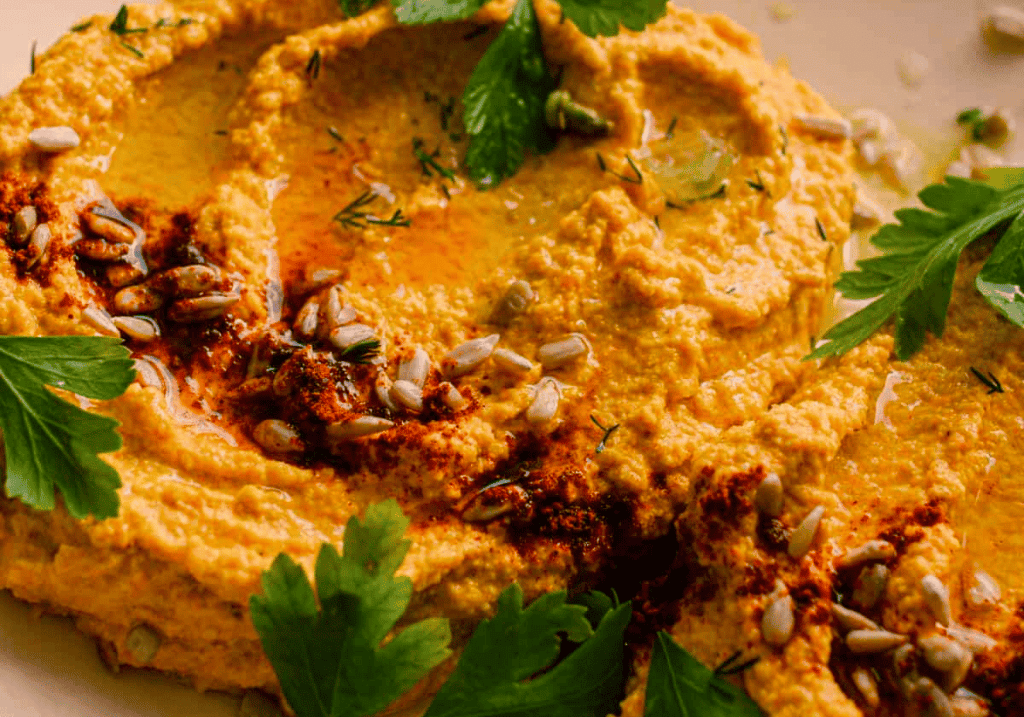 This hearty dip has a hidden veggie inside. Can you guess which one?
Along with a little lime, chili powder, and sunflower seeds, get the recipe for this colorful sunflower seed dip.
#9 Mango Avocado Salad
Mangoes and avocadoes are two of the creamiest fruits that exist, and this salad puts the two together for the ultimate combination of texture.
This would make a great summertime side next to a grilled or barbecued trout. However, both avocadoes and mangoes are tropical fruit, largely imported from Mexico and other countries year round. So you can really enjoy this salad anytime of the year.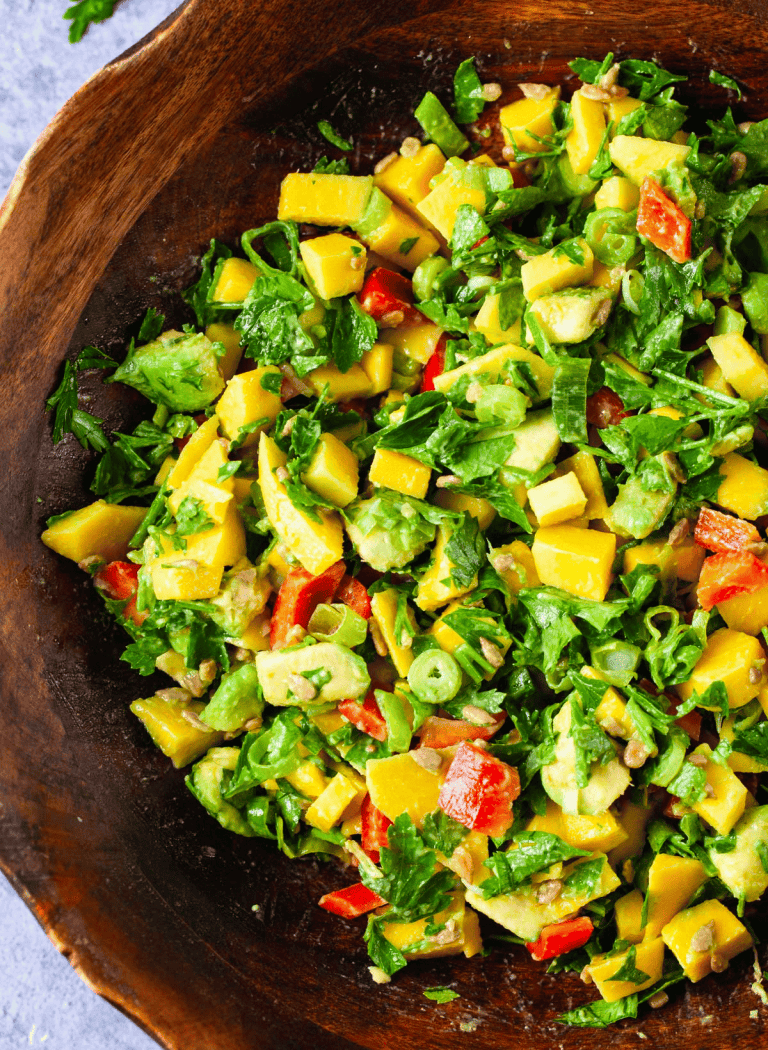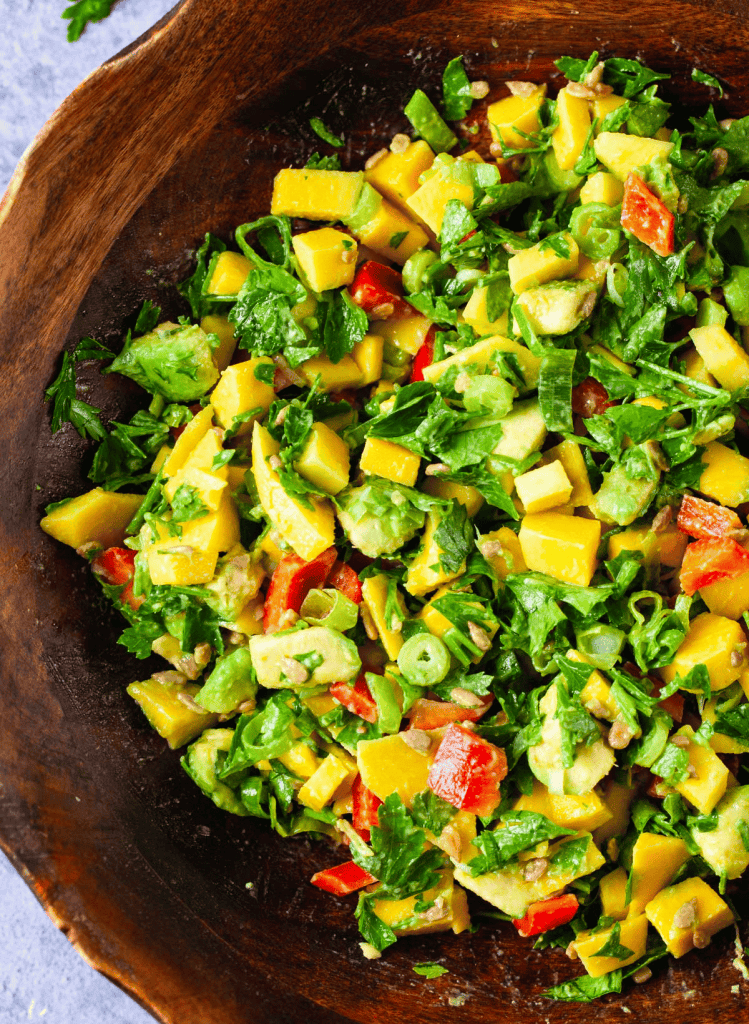 Mixed with fresh cilantro, green onions, and bright red bell peppers, this salad is a great option when you need a healthy and mouthwatering side dish.
#10 Galette
Cauliflower and broccoli have never baked better together than in this beautiful tart.
You could serve this for a special occasion next to your trout, or you could even just leave it on the baking sheet for guests to serve themselves.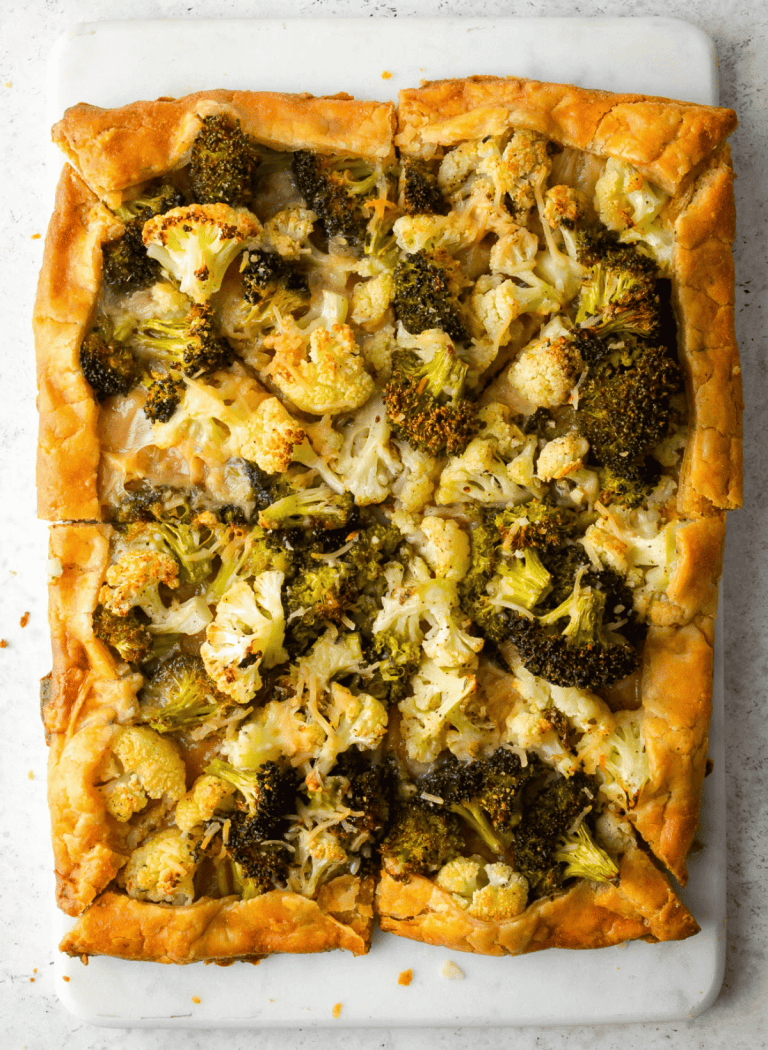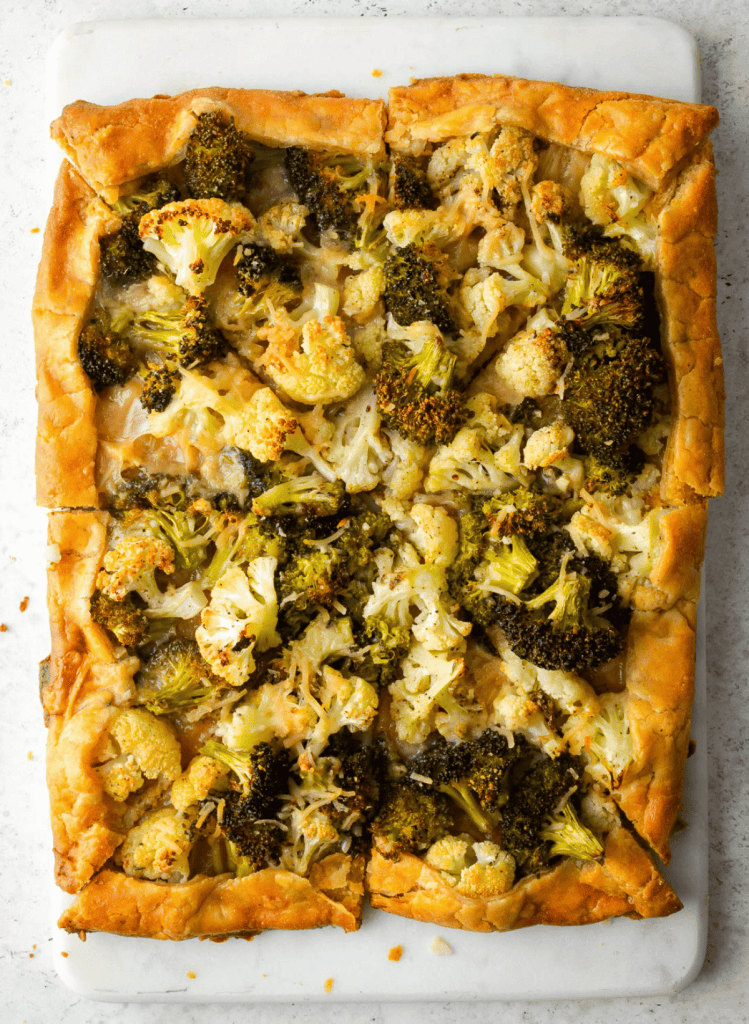 While tarts are commonly filled with sweet fruit fillings, a savory tart works well as a make ahead side dish for fish.
The cauliflower and broccoli are seasoned with garlic, black pepper, thyme, and oregano.
Directions are included for a gluten free, dairy free crust, so this is also a side dish that fits vegan and other allergen free diets.
#11 Parmesan Truffle Fries
Potatoes pair with just about everything. Whether it's mashed with butter, roasted with fresh herbs and olive oil, or split in half for a baked potato, a side of spuds is a familiar crowd pleaser next to any protein.
Perhaps everyone's favorite form of potato are the golden, delicious french fries.
Said to be invented in Belgium, the US holds its own with the average American consuming close to 30 pounds per year.
Fries typically couple with burgers but pair just as well with trout too.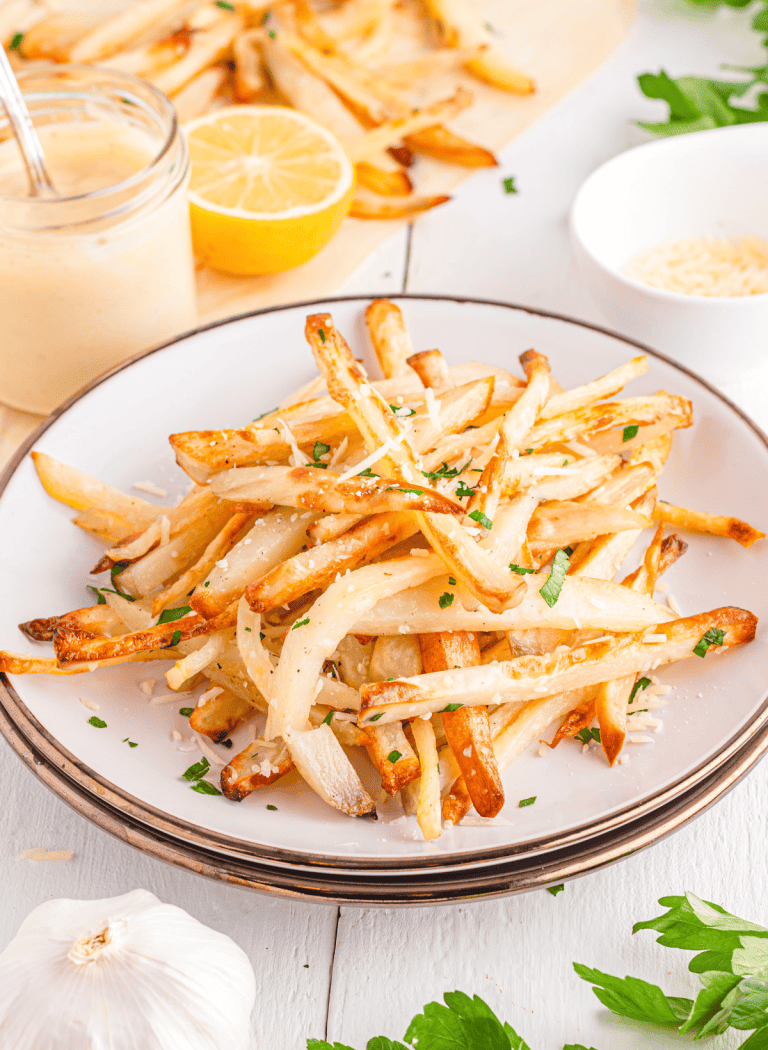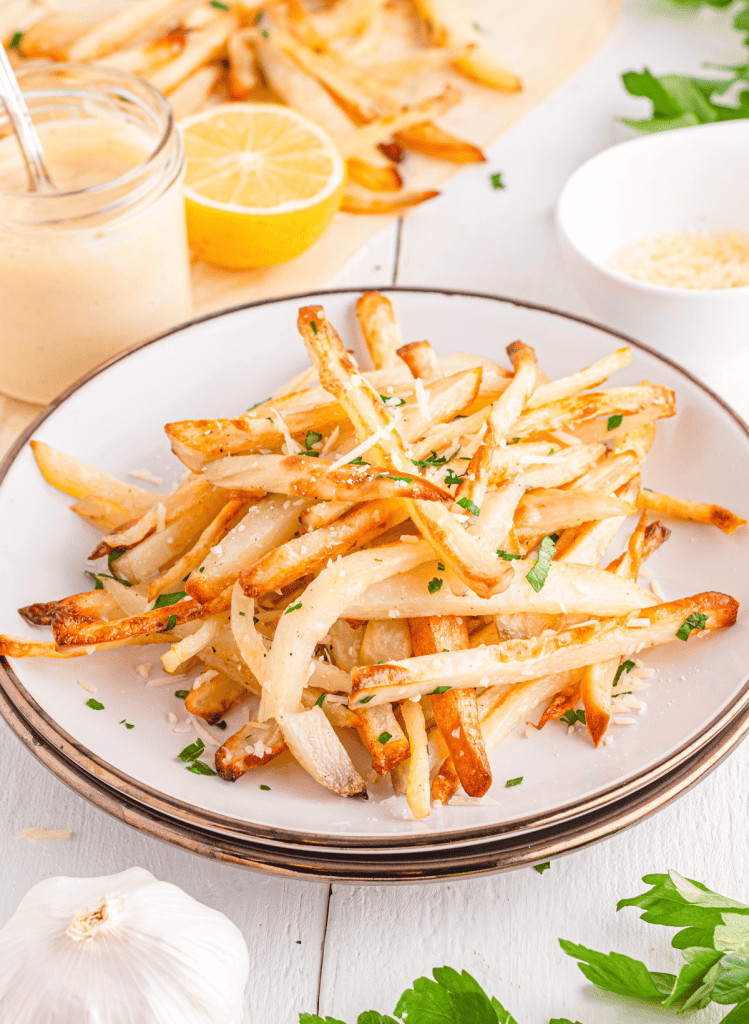 For a fresh take on everybody's favorite french fries, this recipe adds a dash of truffle oil and sprinkling of parmesan cheese.
Truffles are a type of fungi that have a woodsy, earthy flavor with a much tougher texture than mushrooms.
Because they are so rare and expensive, their flavor can still be enjoyed at a more reasonable price by purchasing truffle oil.
The oils are either made from actual truffles or a synthetic truffle flavor known as 2,4-dithiapentane. Either way, you're not likely to tell the difference, but you will notice a difference in these fries with truffle oil.
#12 Lemon Herb Tahini Sauce
If you didn't have time to do anything "special" to your trout except season it with salt, this lemon tahini sauce would be a great option to liven up your fish.
Make it in just 10 minutes, which is about the time trout fillets would take to bake in the oven.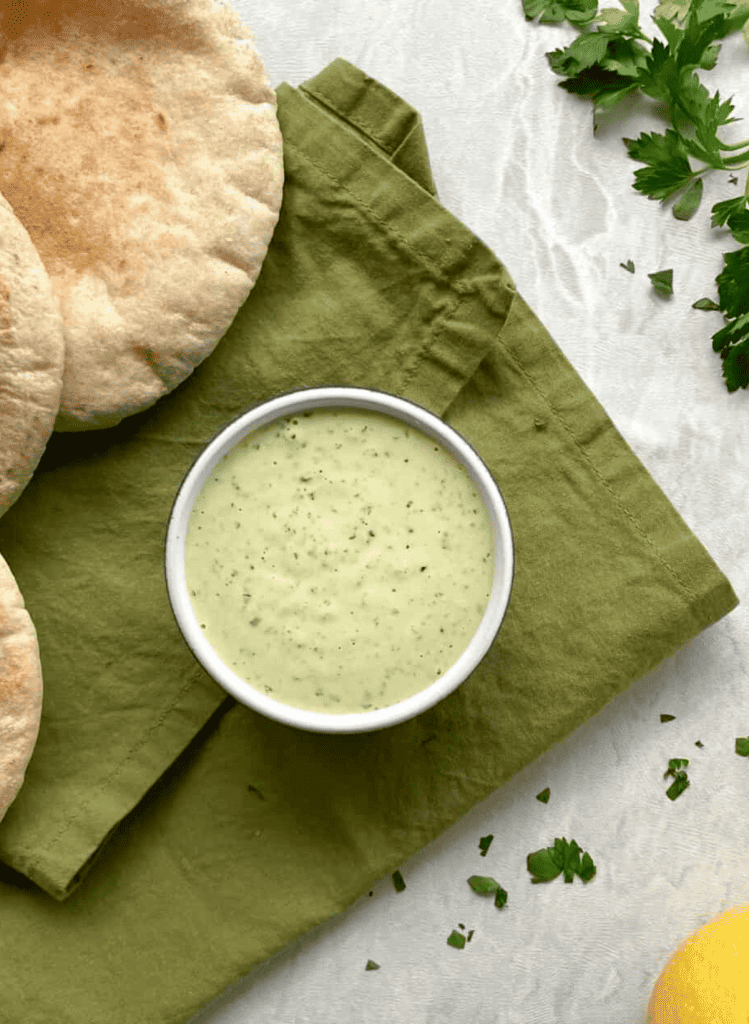 The fresh parsley and lemon zest add the classic flavors you would normally add to trout, but in a fresh twist with some tahini, a premade sauce made of blended sesame seeds.
To make the dip creamy and blendable, you can add your choice of yogurt or plain water works too.
#13 Buckwheat Apple Salad
Despite its name, buckwheat doesn't actually contain wheat, and it is gluten free.
According to Harvard Health, buckwheat is actually a seed harvested from a flowering plant related to rhubarb. They also cite its high levels of rhutin that make your blood vessels "stronger and more flexible."
The buckwheat seed without the hull is known as a groat, which can also be ground into flour.
In Japan, buckwheat flour is used to make soba noodles. In France, they make buckwheat crepes. And in Eastern Europe, the buckwheat groats are used for a breakfast porridge known as kasha.
Per Foodprint, the colonists brought buckwheat to America in the 1600s, and it actually remained popular until the 19th centur, when the arrival of petroleum based fertilizers pushed out buckwheat for other more cereal grains.
However, it is starting to see a resurgence now and is often referred to as a whole grain, even though it is actually a seed.
One way to add more to your diet is with this salad.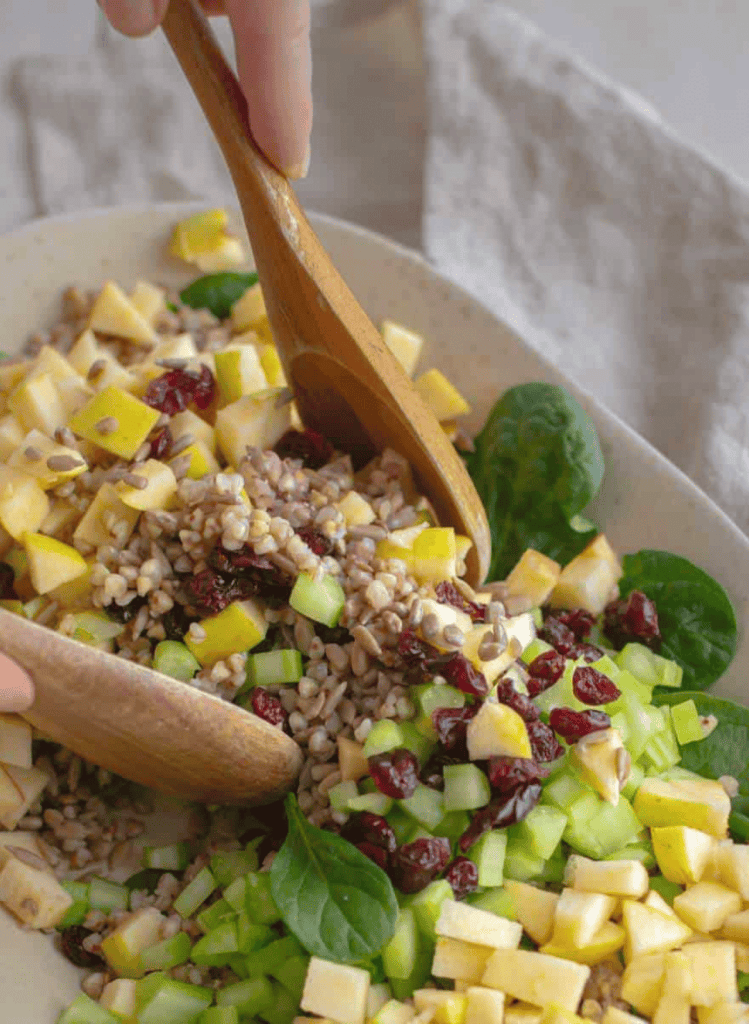 Combining the buckwheat with dried cranberries add sweetness, fresh chopped celery and apples add crunchiness, and sunflower seeds add nuttiness.
This is an easy salad that can be tossed with the dressing of your choice.
#14 Air Fryer Carrot Fries
It seems like carrots rarely get to be the star of their own side show.
Often tossed into coleslaws, added to salads "for color," or resigned to raw stick status next to celery on a veggies and dip platter, carrots are used frequently but rarely independently.
They can, however, sub in for its famous root vegetable family sibling, the potato, in the form of fries.
This recipe takes advantage of the the air fryer instead of the regularly deep frying method to achieve a similar effect of french fries.
Seasoned with a touch of fresh garlic or garlic powder, these fries still do need a little bit of oil before going into the air fryer.
Check out this recipe to add more carrots to your plate with this fun finger food twist.
#15 Grilled Brussels Sprouts
From its once brutal beginnings as a despised, distasteful vegetable on a child's dinner plate, brussels sprouts have emerged as a culinary superstar.
The trend seems to have emerged in the 1990s, when a Dutch scientist identified the exact chemical compound that made them so bitter.
From there, Dutch seed companies began looking for seed varieties with low levels of the bitter compound, and they began selectively breeding and cross breeding the vegetable to make it more palatable.
In many bars and restaurants across America, standard fare now seems to include fried chicken wings along with fried brussel sprouts.
If you don't deep fry at home, these grilled brussels sprouts give you that same restaurant-y feel of special side dish for your fish.
This recipe dresses the grilled brussels sprouts with a tangy vinaigrette.
If you don't have a grill, there are also instructions in the recipe for roasting them in the oven.
Trout, like other fish is very versatile when it comes to side dishes to serve with it.
These side dishes are also very versatile and can blend into the style of trout your cooking, whether it's baked with herbs, pan fried with butter and lemon, or seasoned with spices.
Other Seafood Recipes