Whether its seared over high hight or turned on the outdoor grill, tuna steaks are a great thing any night of the week. The best sides are the ones that are simple enough to pair with the tuna steak but still elevate your meal to the next level.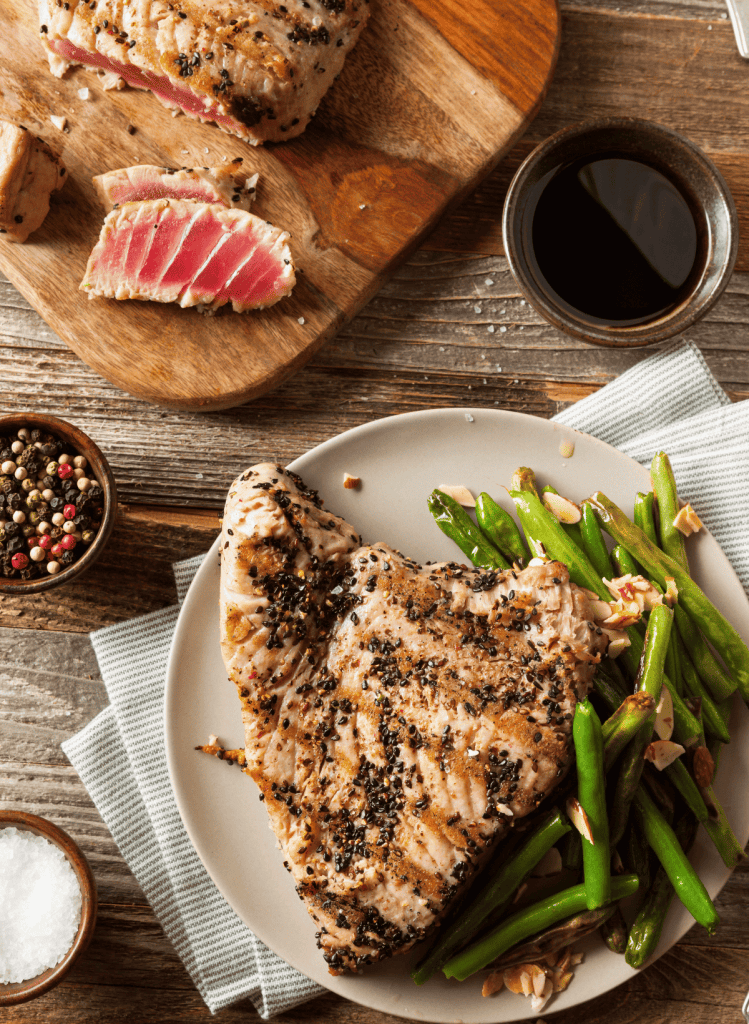 Fresh tuna steaks are so nice. Tuna is so pretty, tasty, and a steak sized piece of it just gives you more to enjoy of it.
If fish were like cars, tuna would be the Ferraris of the ocean—sleek, powerful, and made for speed.

World Wildlife Fund
Tuna steaks are quick enough to make for a weeknight but definitely a step up from most cans of tuna.
​Steak sized portions of tuna are typically from the ahi or blue fin tuna species.
And the preparation of tuna steaks, like many other fish, can go so many ways and fit a variety of cuisines.
Fresh tuna calls to mind Hawaiian vacations, the French seaside, and Mediterranean salads.
If we look to where tuna is from for inspiration, tuna is found in oceans all over the world. However, the majority of the global tuna supply is from the Pacific Ocean.
According to the National Fisheries Institute, this accounts for 2.3 million tons of tuna or about 66 percent of the total world catch.
The remaining 44 percent of the world's tuna comes from the Indian Ocean (20.7 percent), the Atlantic Ocean (12.5 percent) and the Mediterranean and Black Seas (0.8 percent).
Since most of the world's supply is from the Pacific Ocean, these side dishes are inspired by flavors of the Pacific Rim, which is basically infusing Western ingredients with Asian flavors.
Green salad is always on standby to pair with your tuna steak, but here are 12 quick and easy sides that are worth considering too.
1. Beans 'n Greens
Tuna and white beans are a classic pairing, especially in the Tuscan region of Italy where white beans are like the humble potato and eaten with everything.
In fact, beans 'n greens originated on the East Coast, where Southern Italians immigrated between 1880 and World War I. Since it is inexpensive and filling, it quickly became a staple in many households.
Classically, the greens in "beans 'n greens," is from escarole, a leafy, tender green vegetable from the chicory family. It has a pleasing bitterness and wilts down beautifully and quickly while still maintaining its crunchy texture.
Made by sauteeing escarole with fresh garlic, olive oil, and pepperoncini flakes (Italian red pepper flakes), the escarole is then added with some vegetable stock to cook down and make a pleasing sauce.
Canned cannelini beans are then added to absorb all that flavor. Typically, the dish is finished with parmesan cheese, but it doesn't need it.
​If you can't find escarole, this recipe also works really well with other leafy greens like kale, swiss chard, mustard greens, or even collard greens.
I think tuna and white beans are just spectacular together, and the addition of a green vegetable leaves a salad moot. You won't need anything else for a complete meal.
And you can cook the beans 'n greens in 15 minutes.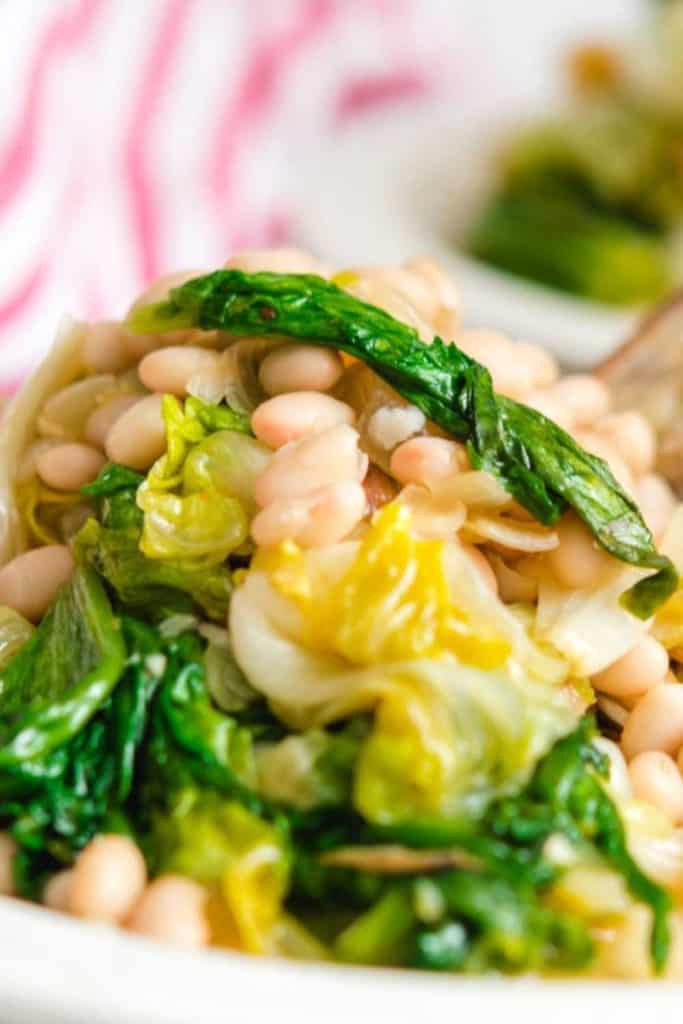 Sauteed with some olive oil and fresh escarole, this can be a main dish on its own or one of the best side dishes with tuna steaks ever.
2. Roasted Green Beans with Walnuts
A discussion of what to serve tuna steaks would not be appropriate without mentioning green beans.
Green beans can be fancy and a restaurant staple. I've cooked green beans in almost every single restaurant I ever worked at, from high to low end ones.
This recipe is one of the easiest ways to cook green beans, and one of my all time favorites.
Roasting the beans on a sheet tray just makes the cooking of them seamless.
If you're pan frying your steaks, you can pop a sheet pan of the green beans in the oven, so your tuna and vegetables are cooking at the same time.
This recipe infuses the green beans with soy sauce, which in case you haven't tried, just add this extra savory, extra richness to the green bean, so it seems less ordinary.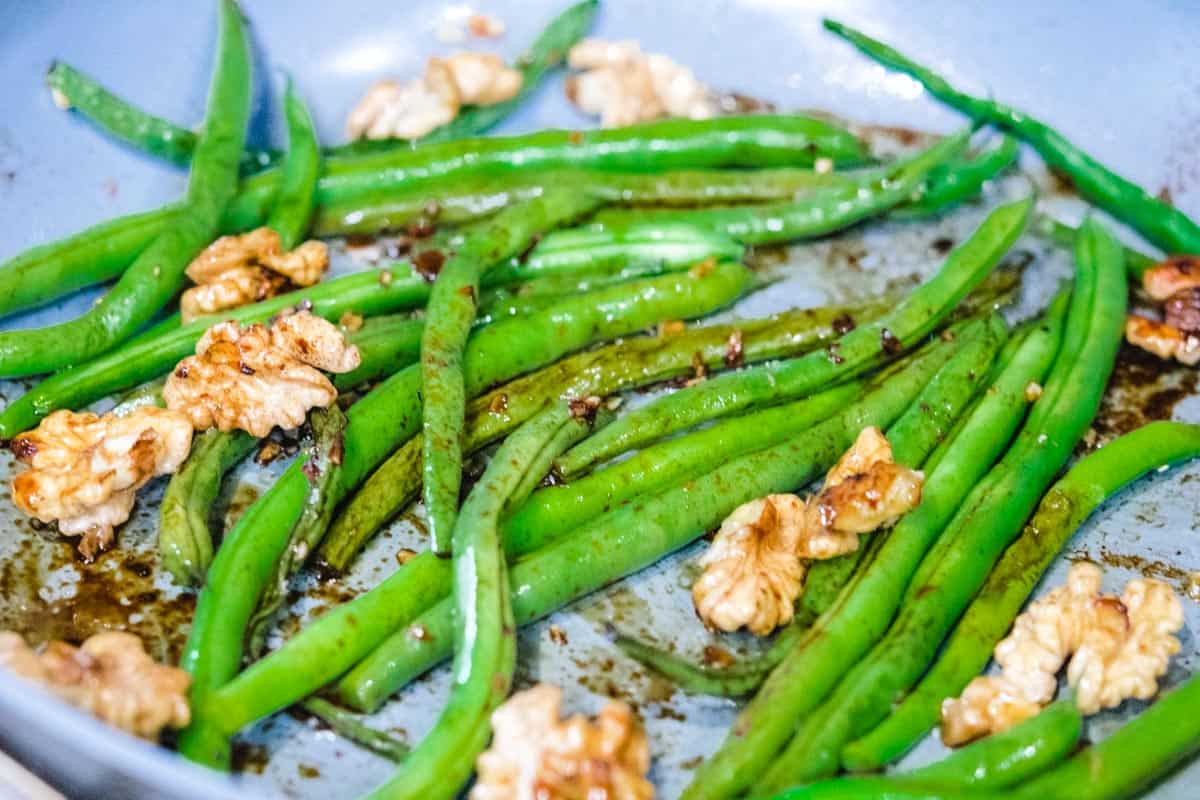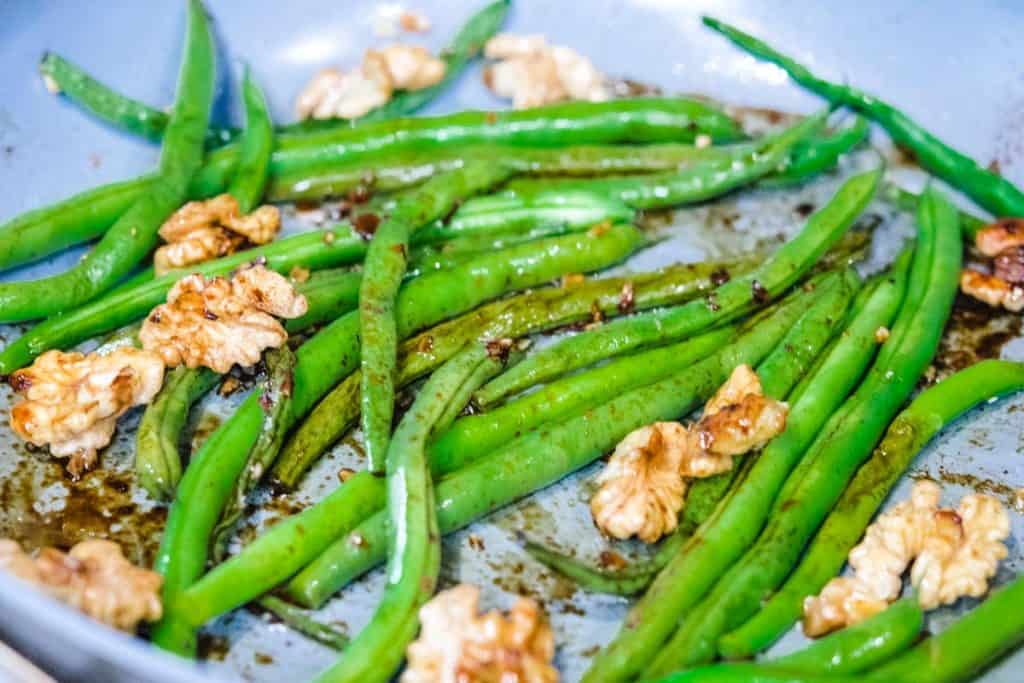 3. Wild Rice Fried Rice
As for whole grains to pair with tuna steaks, there are so many good options including brown rice, quinoa, millet, and farro.
if you haven't tried wild rice, this is a great alternative to white rice. I especially liked this side paired with blackened tuna steaks.
Did you know that wild rice is native to the Great Lakes region of North America? It is also not actually a rice but a seed.
Most wild rice, however, is sold as a blend with actual rice, which makes it easier to cook.
Its nutty, rich flavor is enhanced with by frying it with some soy sauce, fresh soy sauce, and toasted sesame seeds.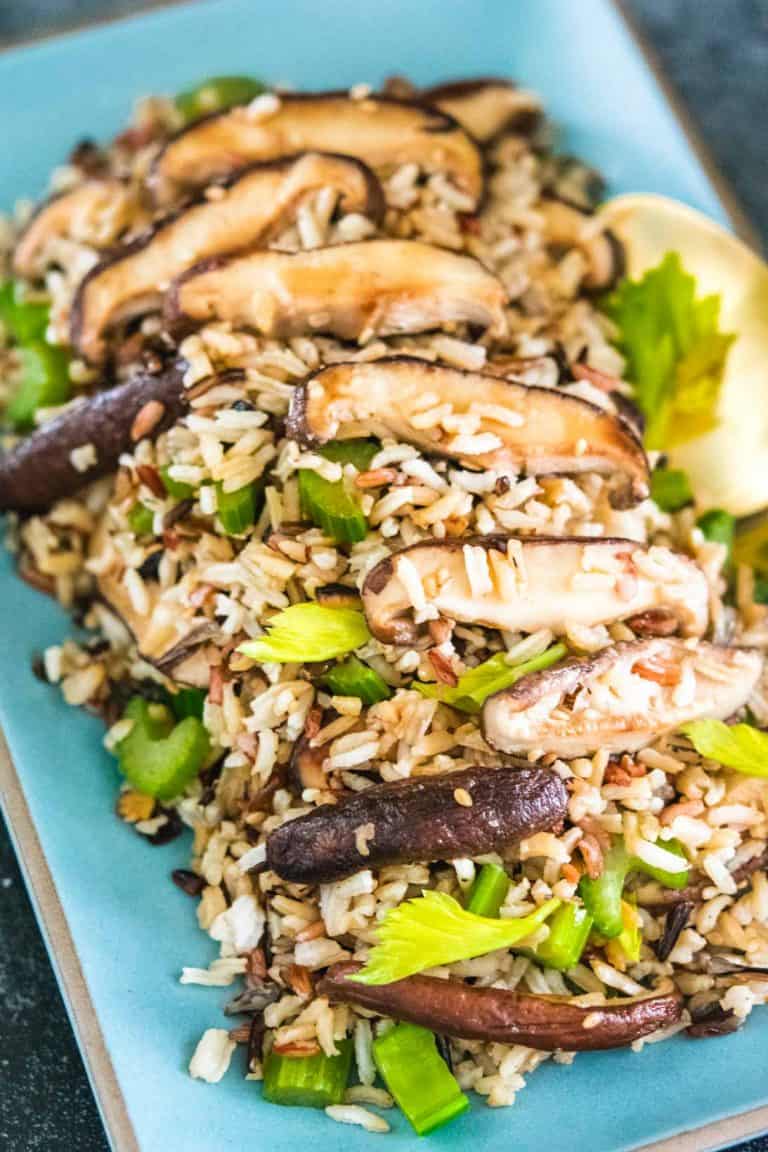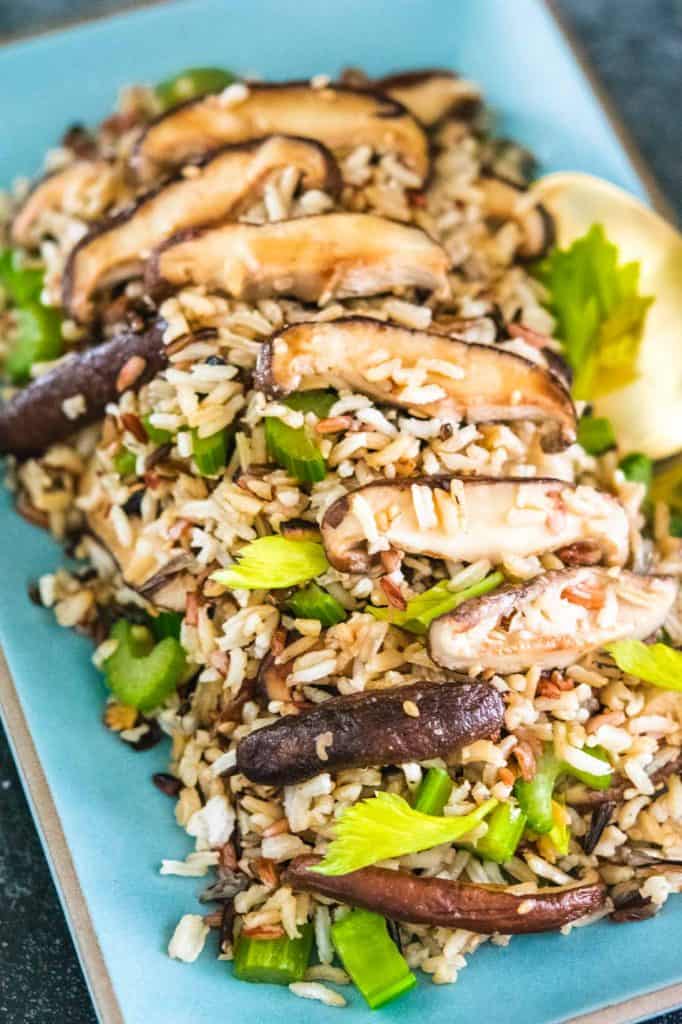 4. Cherry Tomato Salad
Add more vibrant color to your plate with this simple dish of cherry tomatoes and a very easy dressing with no oil.
This recipe is from the famous Australian chef and cookbook author Kylie Kwong, who is known for blending Chinese and contemporary Australian cuisines.
Cherry tomatoes also make an excellent side dish because it is easy to find ripe ones year round, unlike regular tomatoes that are best consumed in the summertime.
In addition to the cherry tomatoes, you'll need some fish sauce, shallot or red onion, and some fresh herbs of your choice.
This recipe also shows you the best way to cut a million little cherry tomatoes in half.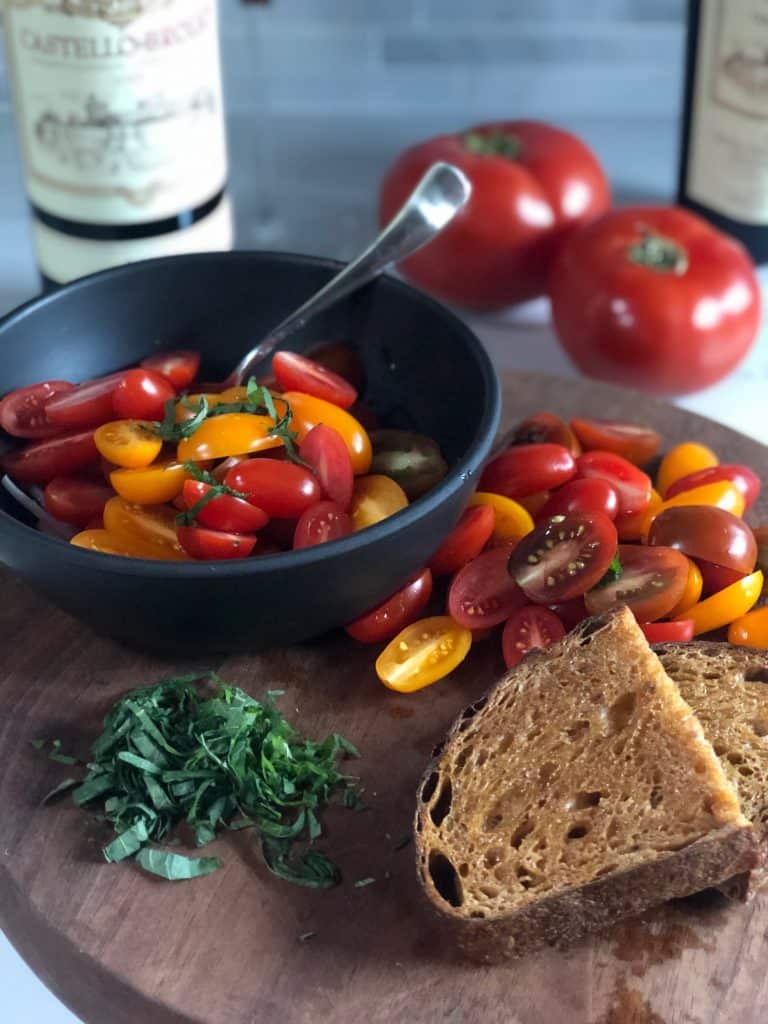 5. Baby Bok Choy Stir Fry
Adding leafy greens is always a great way to round out a healthy dinner.
Littly baby bok choys with their bright green tops and creamy, white stems always look so beautiful next to the bright pink flesh of seared tuna steaks.
While green vegetables with chopped garlic is a tried and true cooking technique, this recipe adds a little bit of chicken or vegetable stock for an added flavor boost.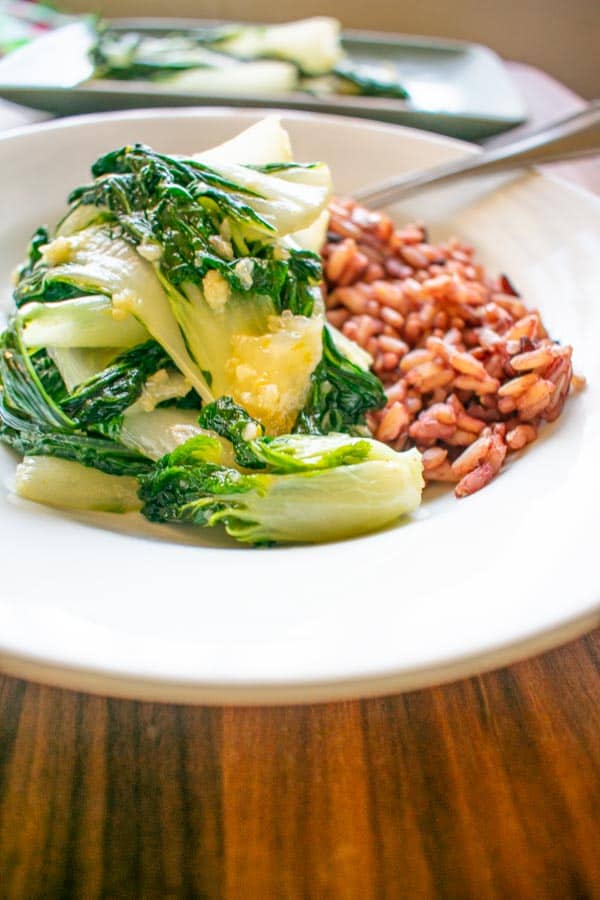 6. Simple & Succulent Edamame
Frozen edamame requires so little effort, and this dressing is the dipping sauce rolled into one.
This recipe also doesn't take much time.
Frozen edamame in their pods take just a few minutes in boiling water to cook. Once cooked, they suck up all the flavors of this sweet and savory soy sauce dressing that is addictive to say the least.
The best part too is that you can eat them with your hands. These would pair nicely with tuna steaks that are sliced into fish tacos or open faced tuna steak sandwiches.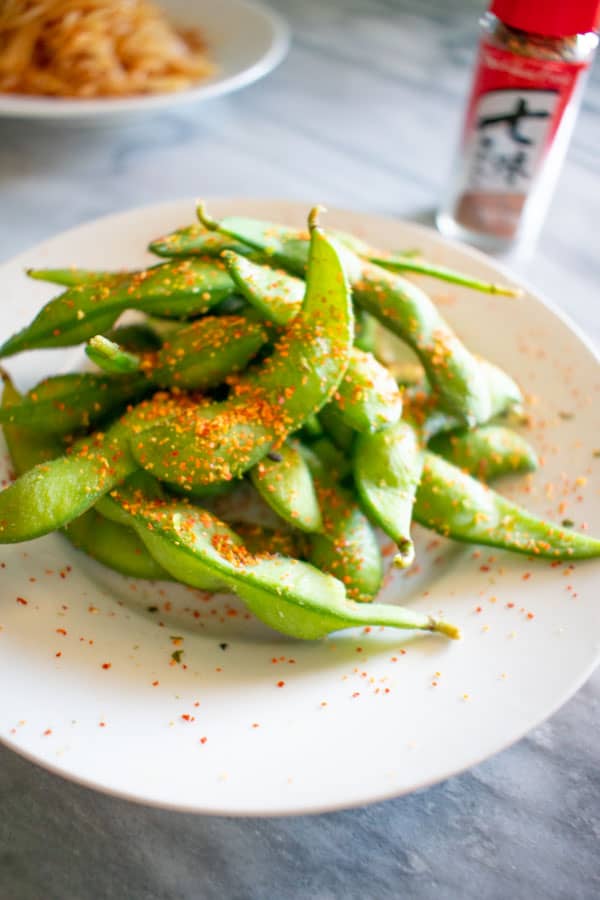 7. Korean BBQ Mushrooms
So many savory flavors going on with these mushrooms.
Just like Korean BBQ beef, these fungi are loaded with sweet, salty, garlicky goodness from the simple ingredients of brown sugar, ginger, and soy sauce.
Since mushrooms cook so quickly, this side dish will come together in less than 20 minutes.
The garnish of green onions and toasted sesame seeds finish off the dish and will add contrast of brown mushrooms next to s browned tuna steak.
Since there is so much flavor going on with these mushrooms, this side dish would work especially well next to a lightly seasoned tuna steak or simply salt and pepper.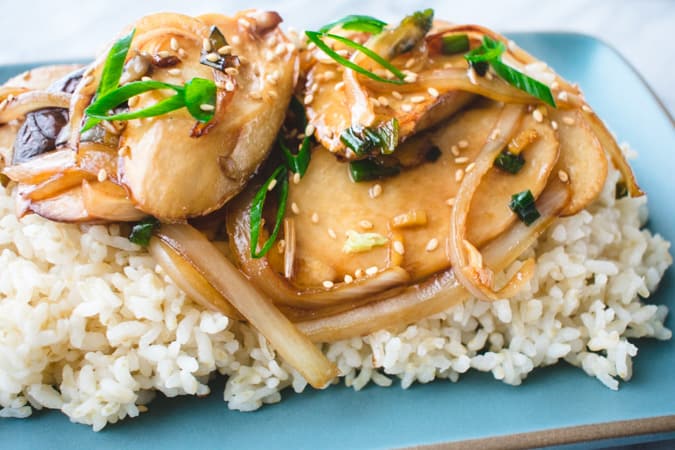 8. Japanese Mushroom Rice
If you need an especially easy recipe, this mushroom rice is made entirely in the rice cooker.
Because it sits in the rice cooker, you can make this ahead of time and keep it warm in the rice cooker (if you have the "Keep Warm" setting on your rice cooker).
The key seasonings in this dish include butter and sesame oil, which is an unusual combination that works especially well with rice.
Add a green salad and you're tuna is set.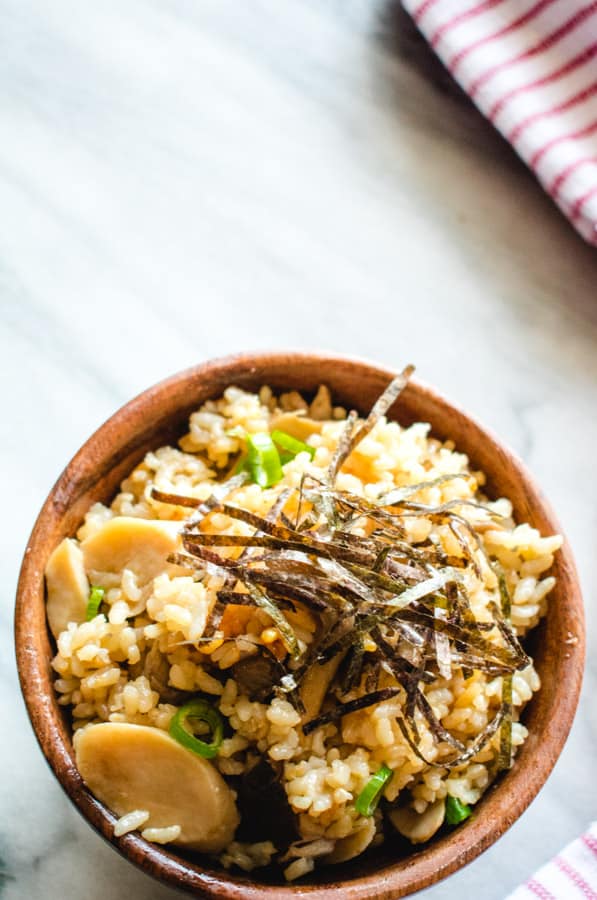 9. Blackened Green Beans
Back to one of the best vegetables to pair with tuna, the green bean.
These get an additional hit of rich flavor from fermented black beans, a condiment used to make that rich and wonderful black bean sauce found on so many great Chinese dishes.
This would be a great side dish next to a seared or grilled ahi tuna steak, for that contrast of the black beans next to the pink fleshed tuna.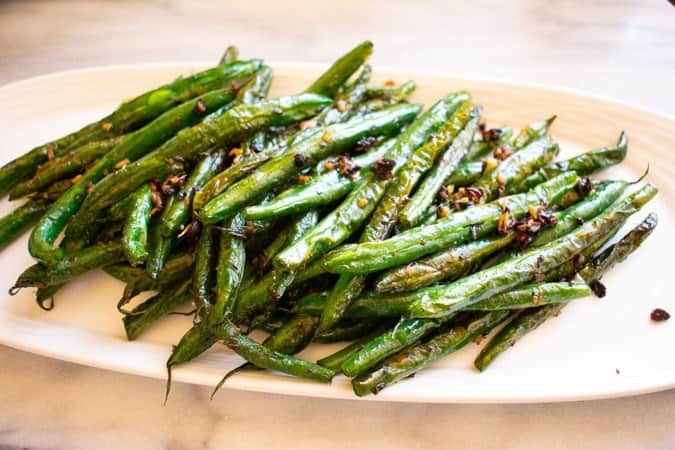 10. Smashed Cucumbers

Instead of a chopped cucumber salad, try taking out your aggression on these smashed cucumbers.
While most cucumber salads are sliced into half moons or rounds, in this recipe you just split the cucumbers in half and whack it with the blade of your knife.
The whacked cucumber is then cut into 2 inch pieces and tossed with a vinaigrette dressing of vinegar, sesame oil, and fresh cilantro.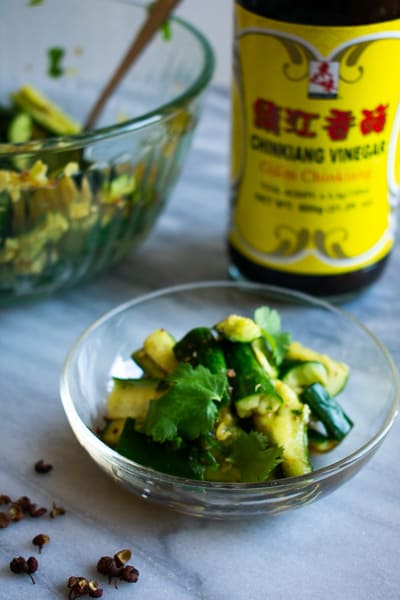 11. Shrimp Chow Fun
Turn your tuna steak dinner into a seafood pageant with the addition of shrimp. Everyone loves shrimp, don't they?
With this recipe for shrimp chow fun, you can make this addictive noodle dish without so much grease or MSG.
​Chow fun is different from chow mein because it uses wide, flat rice noodles instead of wheat noodles. For this reason, it tends to taste and feel a little lighter than chow mein, and a really nice accompaniment to a light fish dinner.
The addition of red bell pepper, scrambled eggs, and green onion will make this a colorful and fun side dish next to tuna.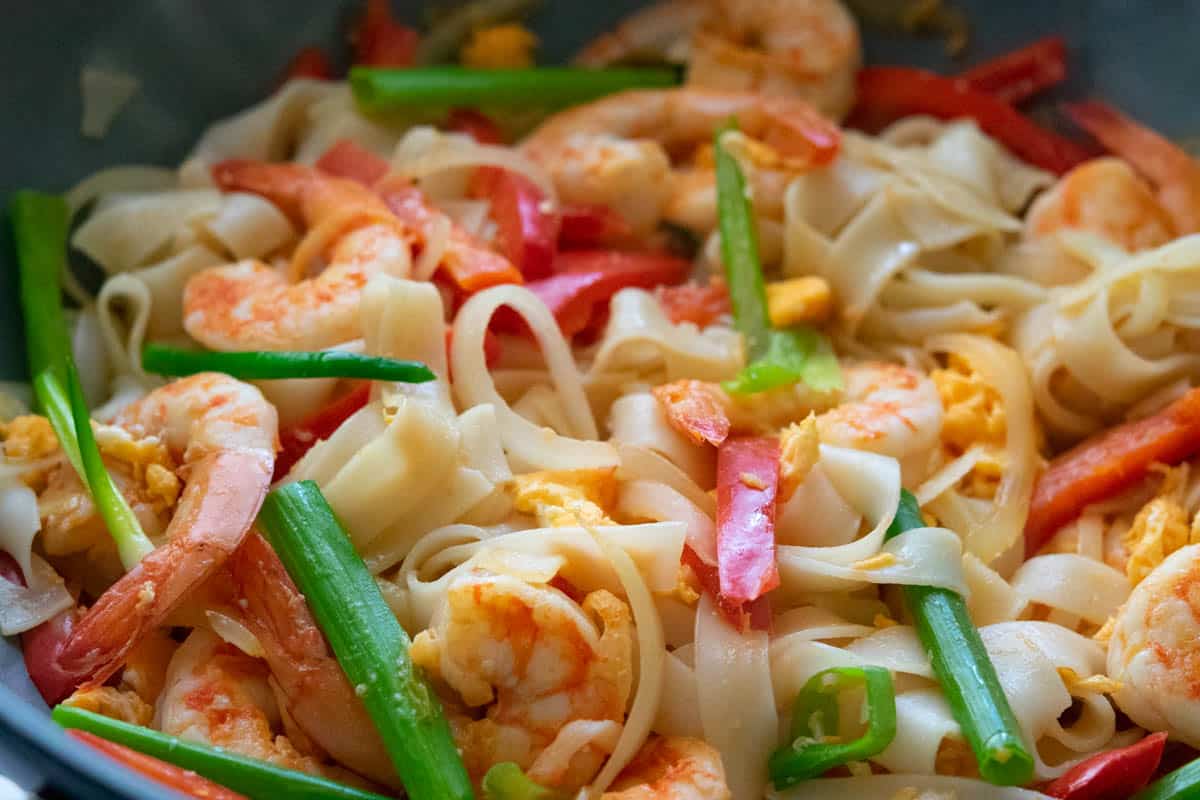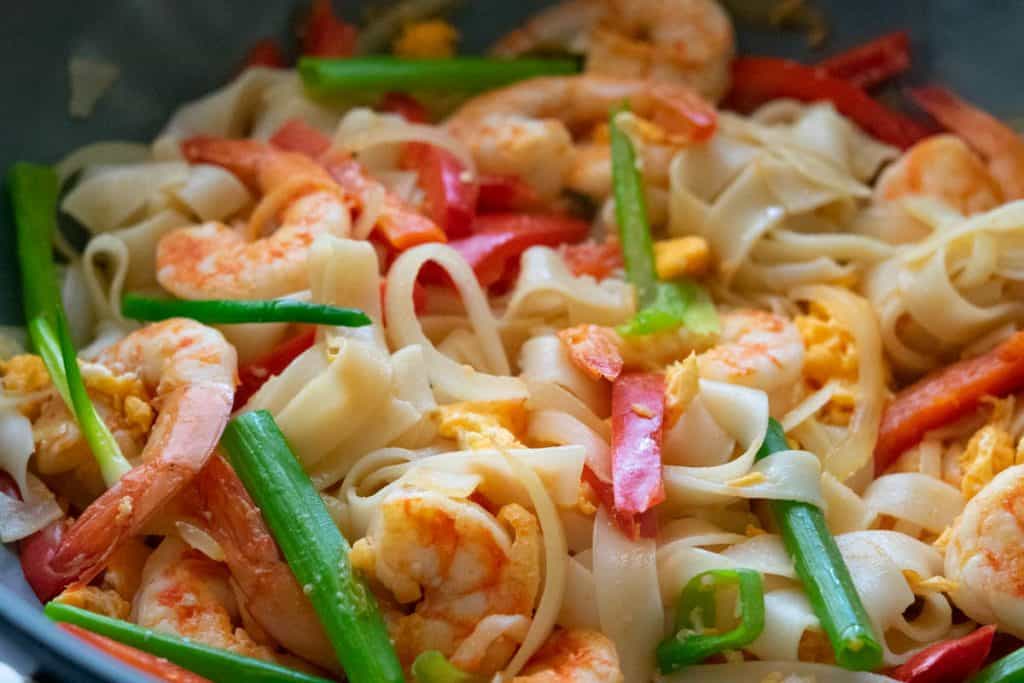 Bonus: Eggroll in a Bowl
This recipe is not super quick, so it's being listed here as a bonus side dish.
There are multiple veggies to chop and cook separately before they are assembled together for a complete eggroll in a bowl.
I've included it as a side dish for tuna steaks because it's attractive and fun sounding for dinner guests. And it just adds so many vegetables to your tuna steak, you won't even need an additional carb like pasta or bread.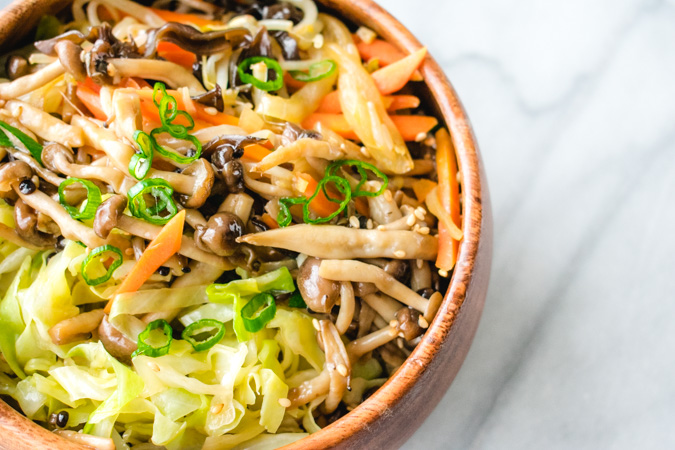 Final Tips on Choosing a Side Dish for Tuna Steaks
Consider how your tuna steak will be cooked. If it will be seared and sliced before hand, choose vegetables that will contrast with the pink interior. If it will be served whole and not sliced, choose side dishes that will brighten up that brown exterior.
Tuna steaks are "meaty" in texture and filling. You'll definitely want to include some something light like a green vegetable or salad.
How is your tuna steak seasoned? Does it have a sweet teriyaki sauce or a spicy Cajun crust? Consider the style of cuisine the tuna is from and take inspiration from side dishes from the same family, such as Asian dishes with a teriyaki tuna steak.
How is your tuna steak cooked? If it's pan fried or grilled, that means your oven space is free cooking vegetables or even the rice cooker. Or you can put together a quick stir fry while the tuna steaks are resting after cooking on the stove top.
Finally, tuna steaks aren't cheap. They can be special occasion show stoppers. Let it be the star of the meal, and choose side dishes that complement rather than take over the show, like the 12 sides listed above in this post.
Choose Sustainable Tuna
For tips on choosing a sustainable tuna fish, check out this guide from Monterey Bay Seafood Watch.
Tips on Cooking Tuna
For tips on cooking tuna steak, check out this recipe for blackened tuna.
If you don't feel like cooking…
Try a no cook tuna dish, like these Hawaiian poke bowls.
Related
Looking for other seafood recipes like this? Try these:
Fortune Cookie 🥠
Nothing is impossible, the word itself says "I'm possible"!

Audrey Hepburn
Lucky Cat 🍀😽