No meat? No problem!  These 7 Korean recipes have enough flavor on their own without all the animal protein.  Check out how vegan friendly Korean cuisine can be with these easy, beginner recipes.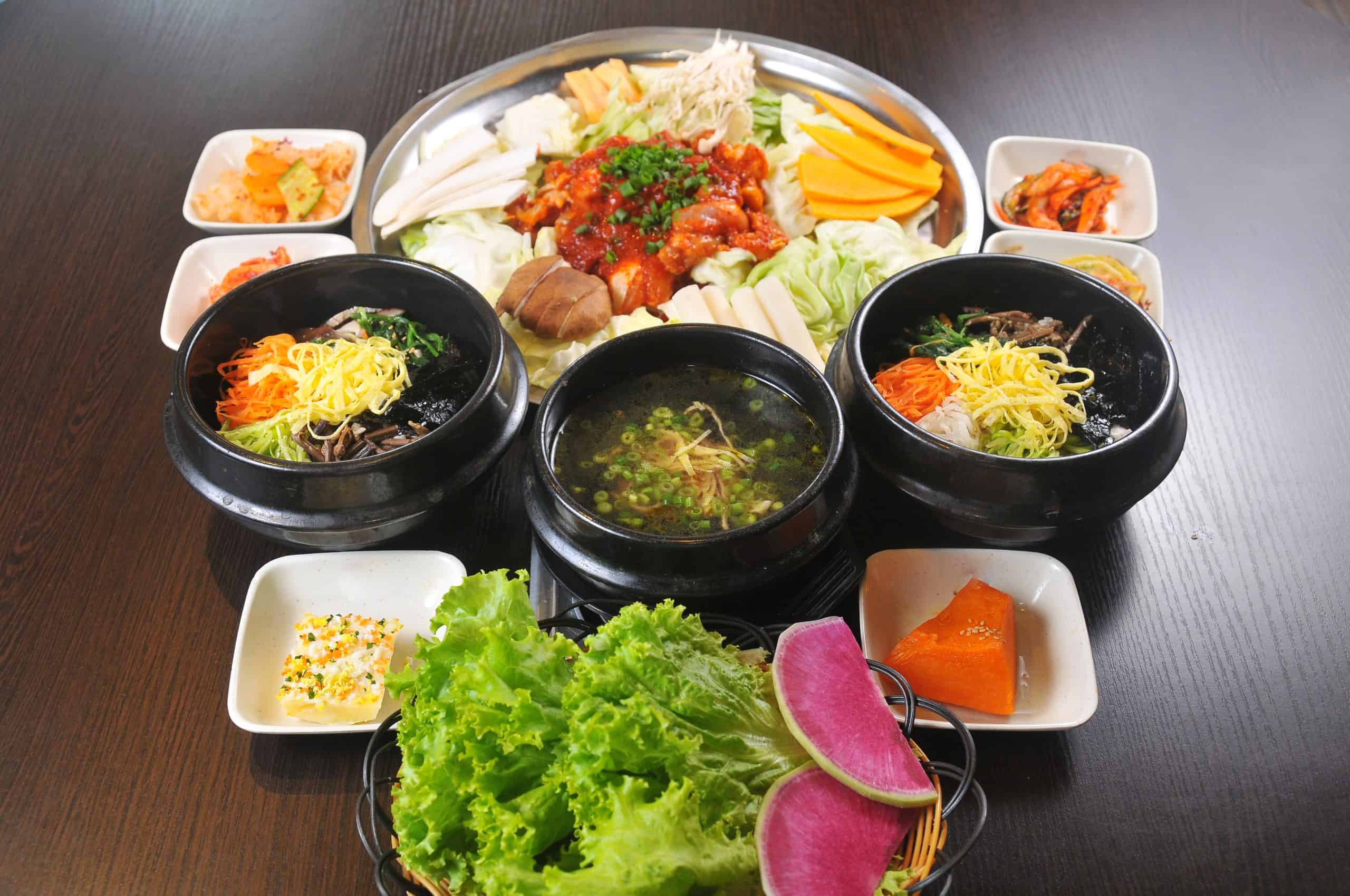 You probably already now that vegan food contains no animal products.  But did you know that Korean food can easily be made vegan?
Aside from the notorious beef BBQ blowouts, the flavors that season Korean food are primarily vegan, such as Korean chili flakes, sesame oil, and soy sauce.
In addition, the techniques to cook Korean food are easy for beginner cooks too.
Try out these 7 vegan Korean recipes to get started.
#1 Easiest Ever Korean Sesame Spinach
Why is it easy?
A quick swish in boiling water followed by swoosh under cool water.
Squeeze out the excess water, and toss with simple ingredients.
Why is it tasty?
Maybe you've never had cold, cooked spinach before, but it has this homey, healthy feeling that raises self esteem (really!) 🙂
#2 Cucumber Kimchi
Why is it easy?
Regular kimchi requires a long fermentation period.  This one can be done in 30 minutes.
Cucumbers are so easy and fun to cut.
Why is it tasty?
It's kind of like a quick pickle, refreshing like most cucumbers are, but with fresh garlic and Korean chili zest.
#3 Black Bean Sauce Noodles aka "Jia Jiang Myeon"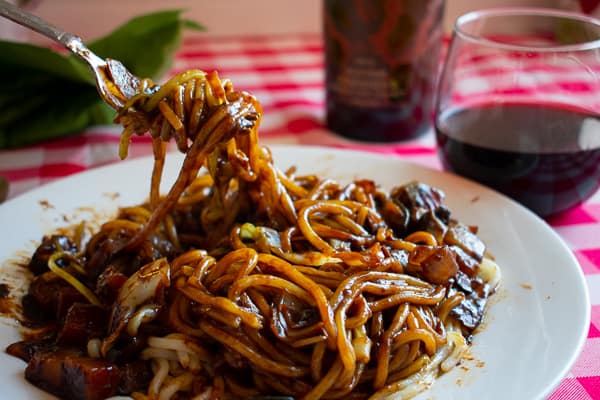 Why is it easy?
The sauce and flavor are mostly done for you with the store bought black bean paste.
The sauce cooks quickly, so it will be done by the time the noodles are done cooking.
Why is it tasty?
It has a deep, rich black bean flavor very unique to this dish and does not require one speck of cheese to taste good.
#4 Korean Bean Sprouts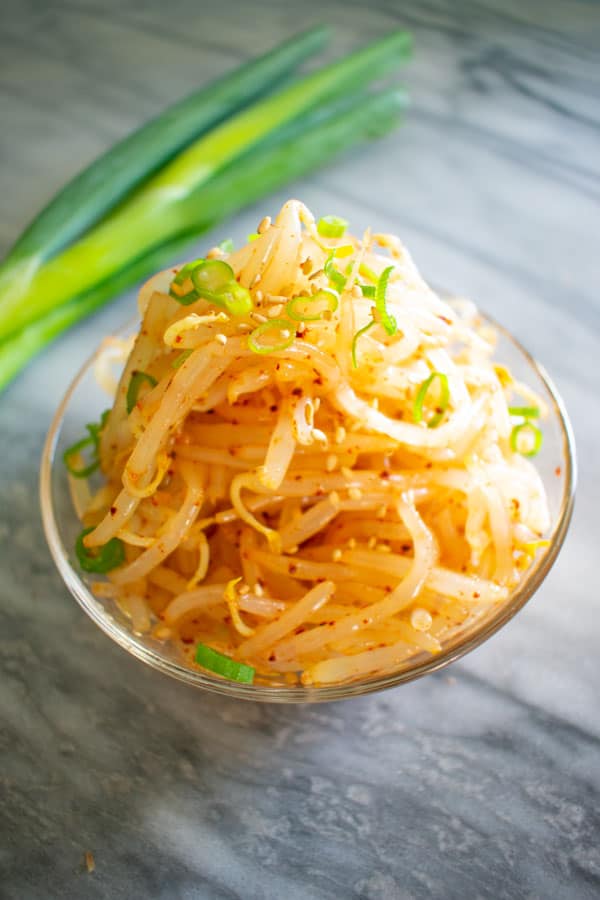 Why is it easy?
A quick swish in boiling water.  These cook in about a minute.
Toss with some seasonings, and it can last for days in the fridge.
Why is it tasty?
It's crunchy and juicy at the same. Really hard just to eat one sprout.
#5 Glass Noodles with Vegetables aka Jap Chae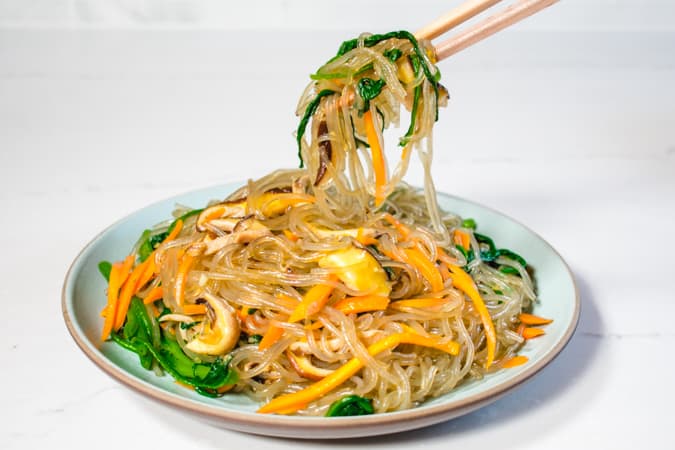 Why is it easy?
It may look like a lot of ingredients but still way easier than adding meat and eggs to the traditional jap chae noodle dish.
If you buy pre-shredded carrots, 1/3 of the hard work is done.
Why is it tasty?
Served at room temperature, it is a bit like salad with a colorful vegetable medley, but those chewy sweet potato noodles are addictive like Tiger King.  Bonus, that the noodles are gluten free too.
#6 Seaweed Salad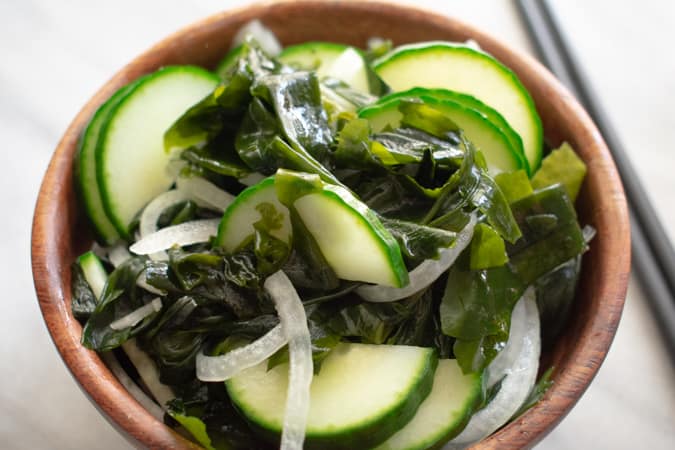 Why is it easy?
You don't have to cook anything.  Just rehydrate dried seaweed also known as wakame.
Toss with some sliced cucumbers like a salad.
Why is it tasty?
So refreshing, reminds you of the sea, and full of minerals and other good stuff in seaweed.
#7 Vegan Kimchi Fried Rice
Why is it easy?
It doesn't have that many ingredients. The vegan kimchi does most of the work.
It is fast, as in should take less than 15 minutes to cook.
Why is it tasty?
It's fried rice for one.  Coupled with sour kimchi and toasted sesame seeds, this is just one more reason to love carbs.
Want more vegan recipes?
Check out these beginner friendly ones:
Quickest, Coolest Japanese Tofu Salad
Fish Fragrant Fairy Tale Eggplant – Vegan
Vegan BBQ: 3 EASY Ideas to Pair with Crianza Rioja