There are so many Korean recipes you can easily make vegan. Try this soup with easy side dishes such as 5 minute bean sprout salad, sesame spinach, or seaweed salad.
Comfort Food Alert!
This soup is a staple in Korean food where it is affectionately known as sundubu jjigae or soondubu jjigae. In the Korean language soondubu means soft tofu and jigae means stew.
While it may look complicated, there are really only two main ingredients you need for this soup.
2 Key Ingredients for Korean Soft Tofu soup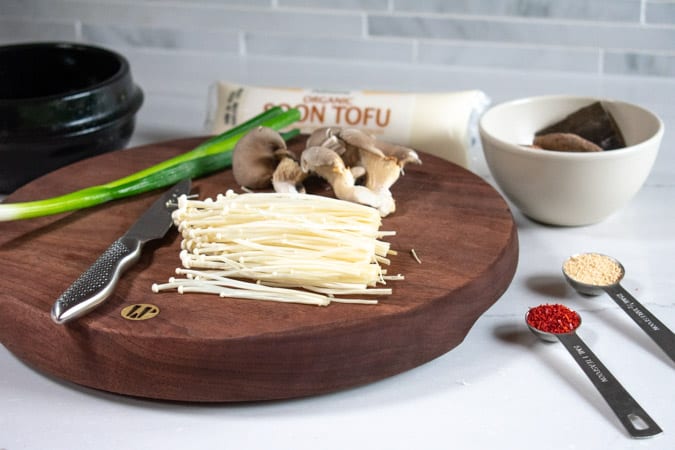 1. Soft Tofu
This is different than silken tofu that comes in a plastic carton. This tofu is specific to this soup and comes in a squeezable plastic tube.
The texture is much softer and creamier than silken tofu in a carton.
It breaks up into small curds without disintegrating and gives Korean soft tofu soup its characteristic creamy texture.
This comes in coarse and powder form. Either will work, though some will say that coarse chili flakes have better flavor.
This also must be frozen if you do not use it within a month or two, or else the color will oxidize and turn brown.
Korean chili flakes have become so popular that I would venture to say that it can be found as most Asian grocery stores, along with Korean grocery stores.
Should you use Gochujang red pepper paste?
Some online recipes use gochujang, or a korean red pepper paste, to obtain the red color and flavor. In addition to Korean red chili flakes, it has rice flour, fermented soybean powder, and salt.
However, it is not traditional to use gochujang in this soup. The red chili flakes are how you obtain that bright red-orangey color.
3 ways get umami flavor into this soup
Since there is no meat or seafood to flavor this soup, take these 3 vegan precautions:
Combination of enoki mushrooms and oyster mushrooms for their silky texture that match the silky soft tofu
Mushroom seasoning – a non-MSG substitute for umami boost
Vegetable broth for extra flavor and kombu for a taste of the ocean
The mini black pot problem
You don't have the mini black cauldron Korean soft tofu soup usually served in because…
1) You're not Korean and don't keep such earthenware in your household
or
2) You're not a witch.
Why is it always served in a mini black cauldron?
If you've tried this dish at a Korean restaurant, you've no doubt eaten it from this small black pot
It's actually called a ttukbaegi that originated in the Goryeo dynasty during the early 10th century.
The mini black cauldron keeps it the bubbly boil going, so it's hot enough to cook a raw egg and remain warm enough until you finish the soup.
Since there is no egg in this vegan version, a simple saucepan or small Dutch oven will work that can be spooned into a soup bowl to serve.
How to make Vegan Korean Soft Tofu Soup
Step 1: Bloom the kombu
Pour boiling vegetable stock over the kombu seaweed. Set aside for a few minutes for the kombu to rehydrate.
This gives the tofu soup a little sea flavor, since no seafood is being added.
Step 2: Saute Korean Chili Flakes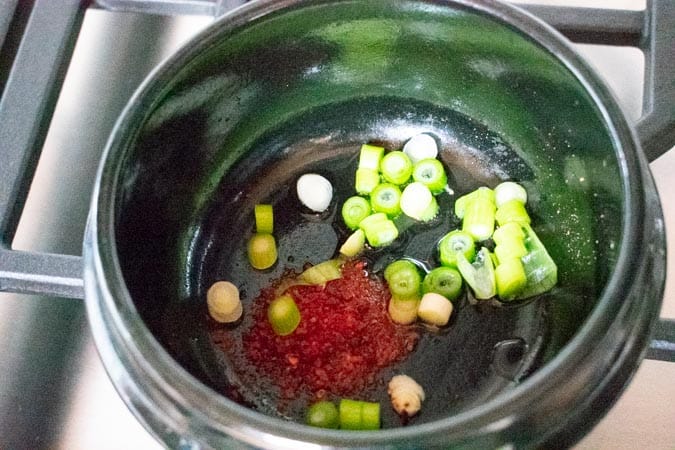 Bloom the chili flakes over medium heat to get them all toasty and warm. They need a little bit of coaxing and cajoling (ie stirring) to release all their red dye potential.
Other recipes will just sprinkle it in with everything else and that does work too.
It does take a few minutes to get all the red color out of those chili flakes, so I stir it with the oil and green onion (white part only) in the beginning instead.
Step 3: Saute mushrooms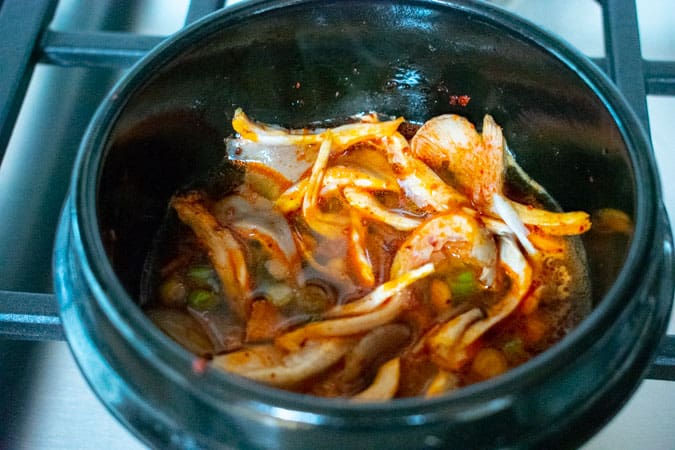 Add oyster mushrooms to party. Stir them in a little bit to get a teeny bit of caramelization to deepen their flavor before the addition of liquid.
Oyster mushrooms are much softer and silkier than button mushrooms. Use button if you can't find oyster mushrooms.
It feels like mushrooms are often the default vegan meat alternative, doesn't it?
This recipe is no different, apologetically or not, but oysters mushrooms do match the texture of silky tofu quite well.
Step 4: Add liquid and tofu
Add the vegetable stock or kombu stock, squeeze the tofu out of the tube, and bring to a boil.
This is single serving, so it shouldn't take long.
Step 5: Add enoki mushrooms & green onions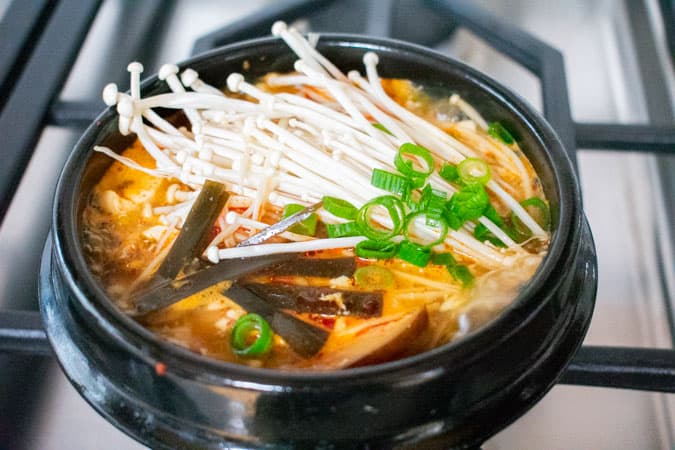 Add enoki mushrooms at the end because they don't take too long to cook. It takes just 30 seconds or so to go from raw to cooked. (Why can't more vegetables be like that?)
Drizzle with toasted sesame oil if you like too. Serve with white rice if you choose, or brown rice which I like to do.
Default alternative cooking method: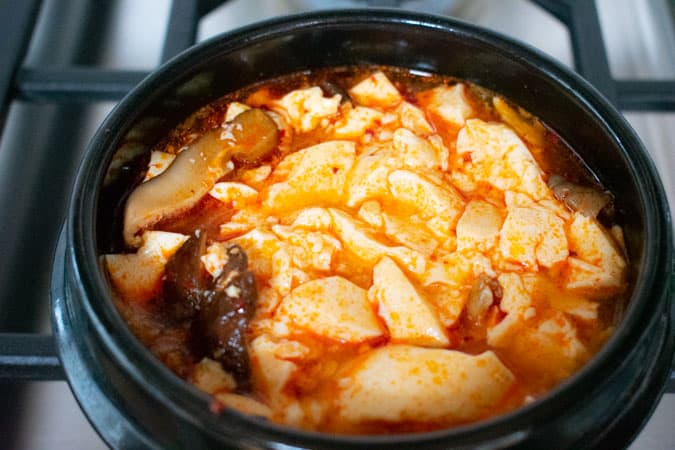 If you can't be bothered with all the above steps, you can just dump everything in a pot, bring to a boil, and eat.
It will taste similar but perhaps feel medieval.
Serve this vegan creaminess boiling hot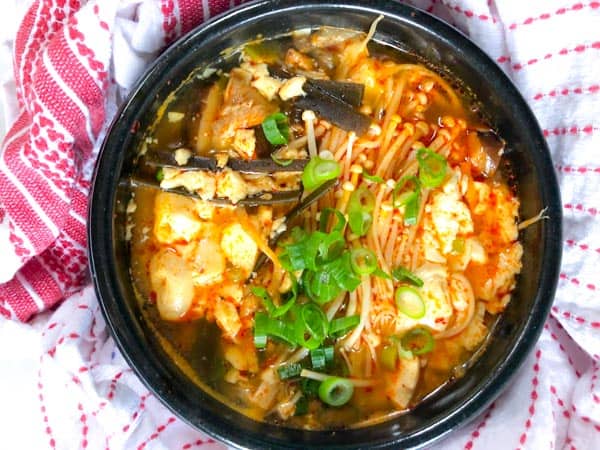 This is a great way to enjoy a classic dish that doesn't take a long time. We could all use something hot and creamy in our lives and this one happens to be vegan too.
More Easy Vegan Recipes
Vegan Japchae Recipe (Korean glass noodles made simple)
Easiest Ever Korean Sesame Spinach side dish
Vegan Kimchi Fried Rice is Fast & Luscious
Vegan Korean Tofu Soup Recipe
You won't miss the meat in this vegan Korean soft tofu soup recipe, aka soondubu jigae. The addition of silken mushrooms and richly flavored broth make this soup warm, cozy, and creamy as can be.
Ingredients
1

c

vegetable stock

1

square

kombu

2×2" square or approximately 1 gram

1

tsp

neutral cooking oil

1

package

Korean soft tofu

14 oz package

1

tsp

Korean red chili flakes

1

ea

green onion

chopped, green and white parts separated

1/2

tsp

mushroom seasoning

1

tsp

tamari

or soy sauce

4

ea

oyster mushrooms

1/4

package

enoki mushrooms

3.5 oz package
Instructions
Heat vegetable stock to a boil. Pour over kombu and set aside to allow the kombu to rehydrate for about 5 minutes. Slice the kombu for garnish if desired.

Heat saucepan over medium heat. Add oil, Korean chili flakes, and white part of the green onion. Stir for about 30 seconds to allow the onion to cook and chili flakes to bloom. Add the oyster mushrooms and stir for 30 seconds longer.

Add the vegetable/kombu stock, tofu, mushroom seasoning to the pot. Bring to a simmer, and cook for 3-4 minutes until tofu is heated through. Stir to break up the tofu.

Add enoki mushrooms and sliced kombu on top, and simmer for another 30 seconds to a minute until enoki mushrooms are heated through. Garnish with remaining chopped green onion.
Notes
If you can't be bothered with all the above steps, you can just dump everything in a pot, bring to a boil, and eat.  
Nutrition
Calories:
284
kcal
|
Carbohydrates:
18
g
|
Protein:
20
g
|
Fat:
15
g
|
Saturated Fat:
2
g
|
Sodium:
1331
mg
|
Potassium:
791
mg
|
Fiber:
1
g
|
Sugar:
8
g
|
Vitamin A:
1094
IU
|
Calcium:
123
mg
|
Iron:
4
mg
🥠Fortune Cookie
There are far, far better things ahead than any we leave behind.

C.S. Lewis